David Moyes' laissez-faire attitude to life at West Ham is rubbing off on his players after a series of interviews and podcasts of late.
There is no denying Moyes is now swimming against the tide at West Ham off the back of a year of miserable results with just 14 wins in the last 51 Premier League games.
Just five victories in 23 matches this season has left the Hammers likely needing five or six wins from the final 15 with Man City, Arsenal, Man United and Liverpool still to play among them.
That is worrying considering West Ham have won just once in their last 11 league matches.
Moyes has been accused to sleepwalking into the thick of a relegation dogfight his team are not cut out to win.
And while there was not too much wrong with West Ham's first half showing against Spurs, the pathetic, lethargic second half display has set alarm bells ringing among fans.
Supporters are justifiably angry with the manager and players, who showed an unacceptable lack of desire in that second half at bitter rivals Tottenham.
Moyes seems to have done more interviews and podcasts in the last couple of months than West Ham have points in that time.
He recently did three lengthy interviews in as many weeks, appearing on Steven Bartlett's Diary of a CEO podcast, Michael Calvin's Football People and a sit down with Sky Sports.
Some of the responses from Moyes to questions over his future smacked of a man who would not be too fussed if he was given the boot.
Indeed he even said as much himself in the Diary of a CEO appearance, stating it would not be the end of the world for him if he lost the West Ham job.
'If my time is up then so be it' was the latest takeaway from his most recent interview on Sky Sports.
And Moyes' laissez-faire attitude to life at West Ham is rubbing off on his players in my opinion.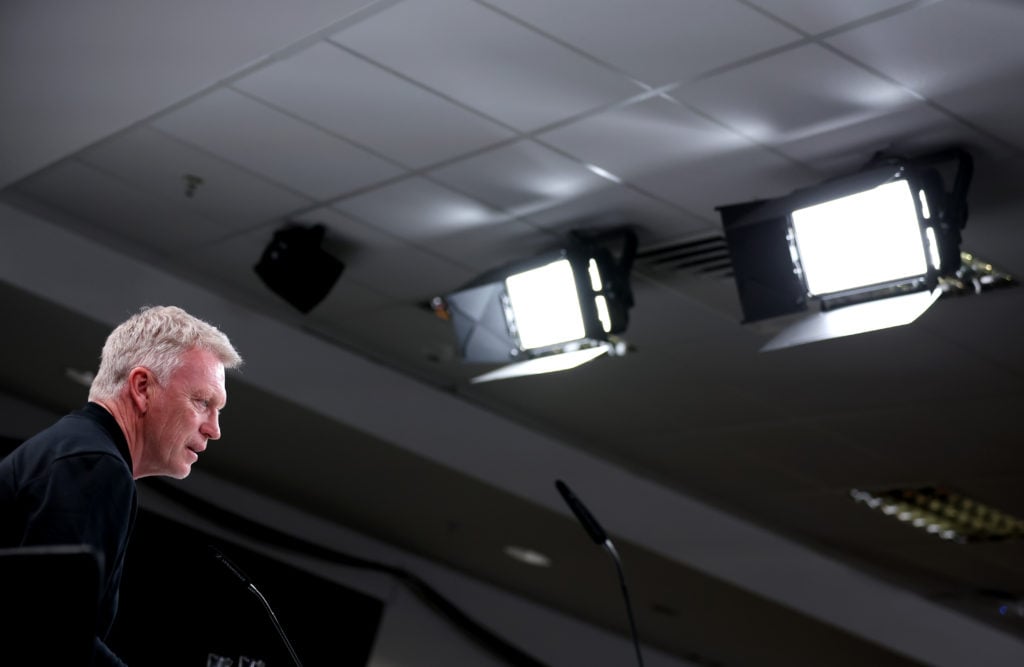 "If I can get them back and challenging again, that's what I hope to do," Moyes told Sky Sports ahead of the Spurs game.
"But if my time was up tomorrow I'd say 'great, hey I've loved it, West Ham's been a great club, I've really enjoyed it here, it's got lots of good things going on behind the scenes at the club'. But if my time's up then so be it, I've really enjoyed my football career."
Moyes did say he was still fighting to be able to challenge and turn things around and reiterated his desire to win a couple of trophies. But it was almost an afterthought, a throwaway line he perhaps felt he had to say to 'play the game' so to speak.
But let's have it right this is not the bullish Moyes who was leading the West Ham charge from the front over the previous couple of seasons. And hardly what you want to hear from your manager on the eve of a massive game against your fierce rivals.
The glint has gone from his eye, he looks worn down by West Ham's fall from grace and like a man who has run out of ideas and answers.
Perhaps most worrying of all, though, the Scot looks like a man accepting of his impending fate and comfortable with the job he has done to this point.
If players are looking to Moyes for leadership and he is presenting that kind of attitude, is it any wonder they are putting in the kind of displays they have been for much of the campaign?
This is why so many fans are understandably making the case for change, even if it is just for change's sake to get that new manager bounce, spark a reaction among the players and fans, give the squad a new voice and in a desperate attempt to inject some enthusiasm and renewed hope and belief for these crucial last 15 games.
MORE WEST HAM NEWS
Have something to tell us about this article?
Let us know