West Ham facing monumental Declan Rice gamble as Arsenal wait and know they have no real choice but to take it.
Once again West Ham fans have had to endure more speculation surrounding their captain Rice this week with unlikely title hopefuls Arsenal throwing their name around as Chelsea have before them (Eurosport).
Rice caused a stir in Qatar by using an England World Cup press conference to discuss his ambitions at club level.
Hammers captain Rice effectively told the world he fully intends to leave West Ham in pursuit of Champions League football and competing for the top trophies.
That was nothing new to West Ham fans of course. Rice had already made it clear in several interviews and with his actions that he intends to leave to play for an elite club competing at that level.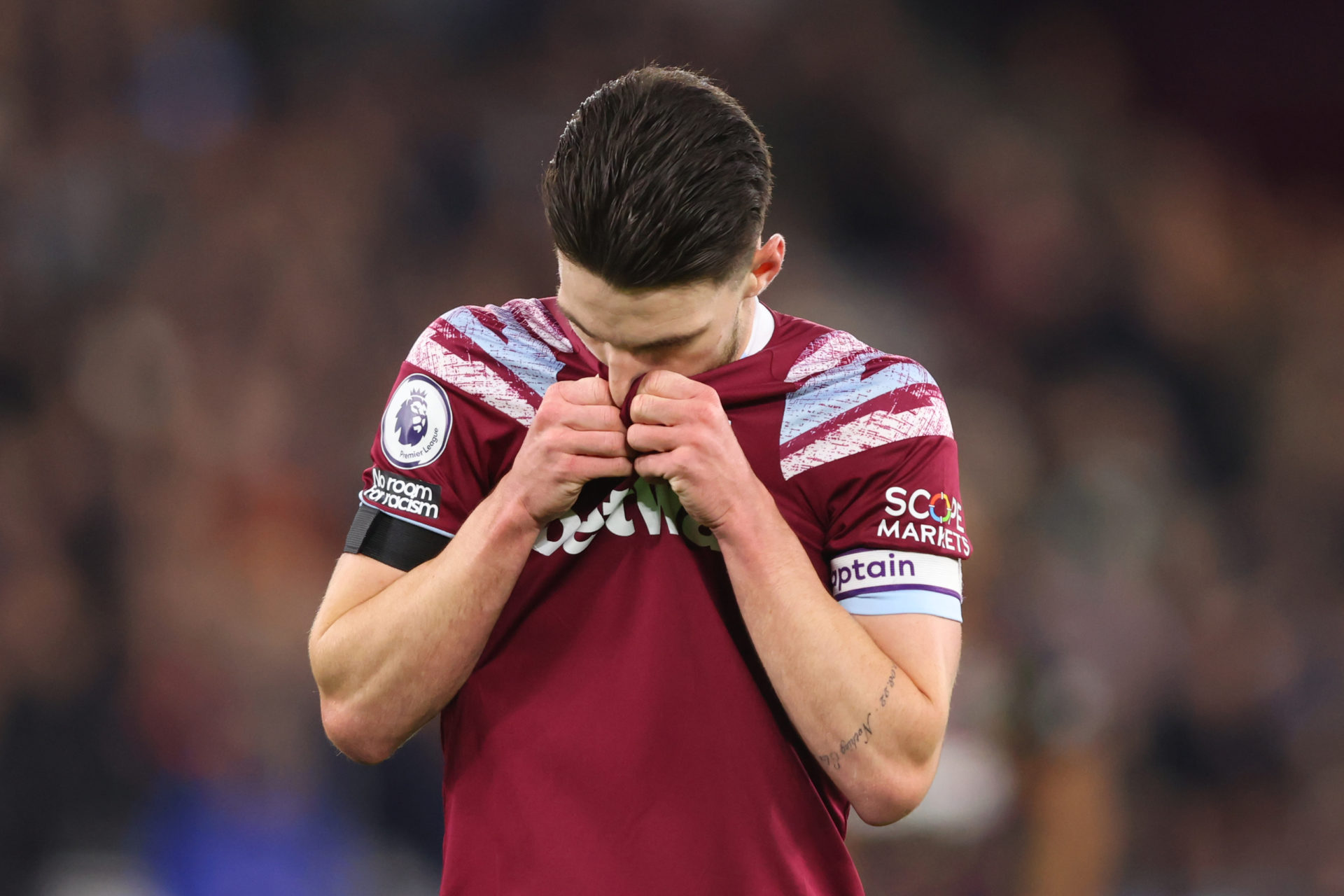 Arsenal are doing that this season and are all but guaranteed Champions League football next season.
If you listen to the journalists supposedly in the know – the latest being David Ornstein – the Gunners seem to have replaced struggling Chelsea as Rice's most likely destination in the summer.
The West Ham talisman and his father/agent Sean have thus far refused to sign a new contract after being offered in excess of £200k per week – a whopping £83m over the course of the proposed deal.
Talk for some time has been that West Ham have privately agreed to sell Rice this summer, presumably to the highest bidder who also satisfies the star's ambitions.
Arsenal have never been seen as a big enough step up from West Ham to justify the club's best players moving on.
The Gunners are a massive club but have not been consistently competitive at the elite level for some time, play in a smaller stadium than West Ham and offer fewer guarantees of sustained success, Champions League football or trophies than some of the other clubs who have been linked with Rice previously, including Man City and Real Madrid.
Arsenal seem to have earned the right to be in the conversation, though, with their transformation under Mikel Arteta.
West Ham facing monumental Declan Rice gamble as Arsenal wait and know they have no real choice but to take it
Now West Ham are facing a monumental Rice gamble as Arsenal wait and know they have no real choice but to take it.
Make no mistake West Ham are right in the thick of a relegation battle until the end of the season.
And there has been no evidence thus far that the Hammers have what it takes to get the seven wins needed in the remaining 19 games to stay up.
West Ham had put a minimum £100m price tag on Rice's head publicly and privately.
But if they are relegated that value will be at least halved with clubs knowing West Ham are desperate for the money.
Selling Rice in January – be it to Arsenal or the highest bidder – would undoubtedly see West Ham get the £100m they want for the midfielder.
So on top of the spectre of relegation and what that will cost the club, West Ham are also facing this mammoth £50m Rice gamble.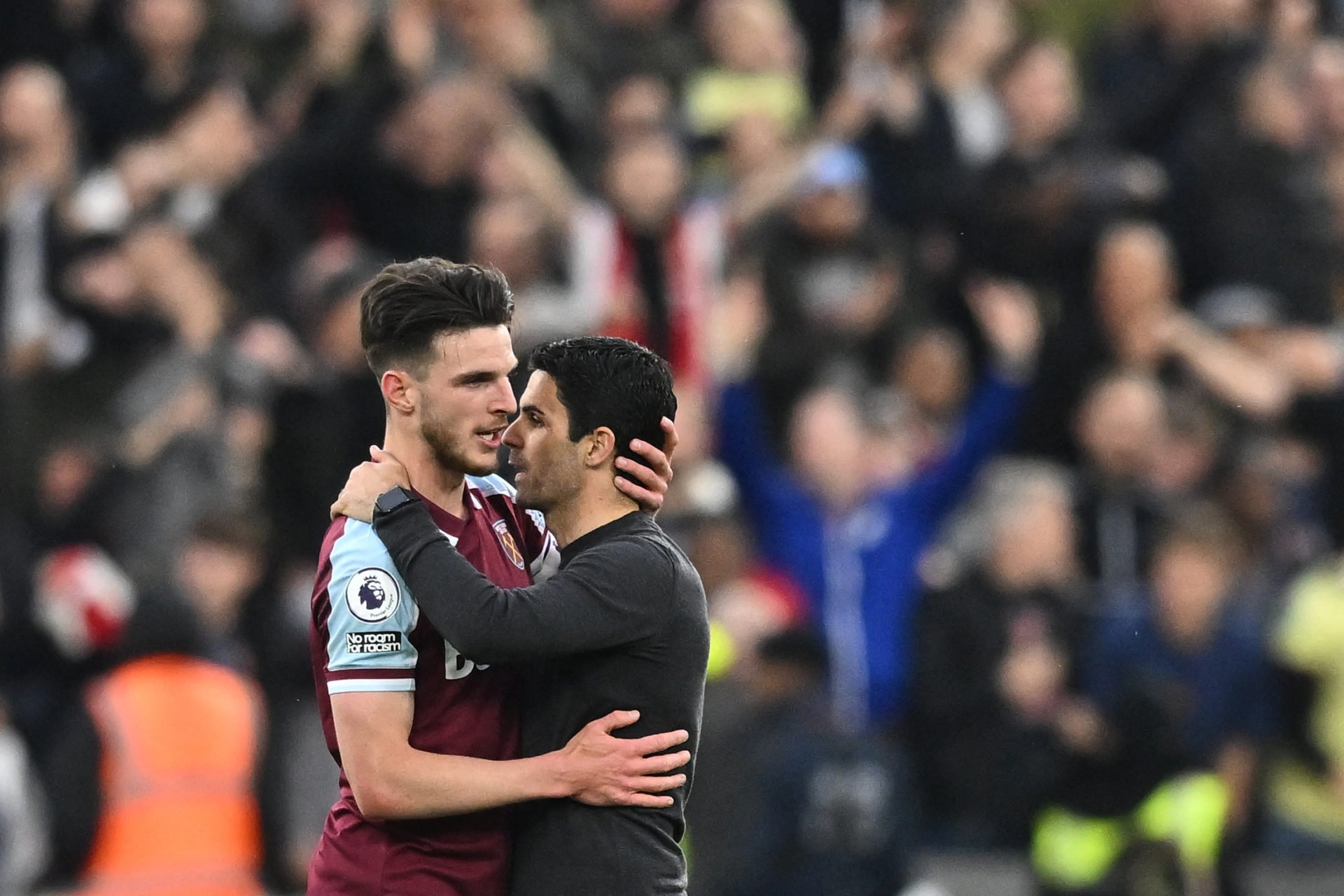 The problem is, it is a gamble West Ham have no choice but to take. David Moyes – whose opinion may soon be rendered irrelevant if he is sacked in the coming days – has insisted selling Rice is January is not up for discussion.
And of course it really isn't. Doing that would be West Ham effectively waving the white flag and surrendering to the drop. An unforgivable, unfathomable act that would have fans revolting.
Rice may not be doing a great job leading the sorry team Moyes has assembled this season. But offloading him now to ensure they get his full value could be seen as a £150m risk given what is at stake for staying in the top flight.
The ideal scenario of course is that West Ham sort themselves out, pull clear and stay up. Then Rice retains much of his value and can be sold to the highest bidder in the summer as the likes of Arsenal wait.
But how often do West Ham United get their ideal scenario?
MORE WEST HAM NEWS
Related Topics
Have something to tell us about this article?
Let us know