West Ham star Declan Rice and Man City's Jack Grealish put on an unbelievable show around the swimming pool out in Qatar today.
The West Ham and Manchester City stars are currently on international duty with the England squad out in the Middle East, and they're two of the most poplar players amongst the England fans.
The two players have been intrinsically linked for some time now.
It all started when both players were warned by Gareth Southgate about their actions during England's win away in Hungary.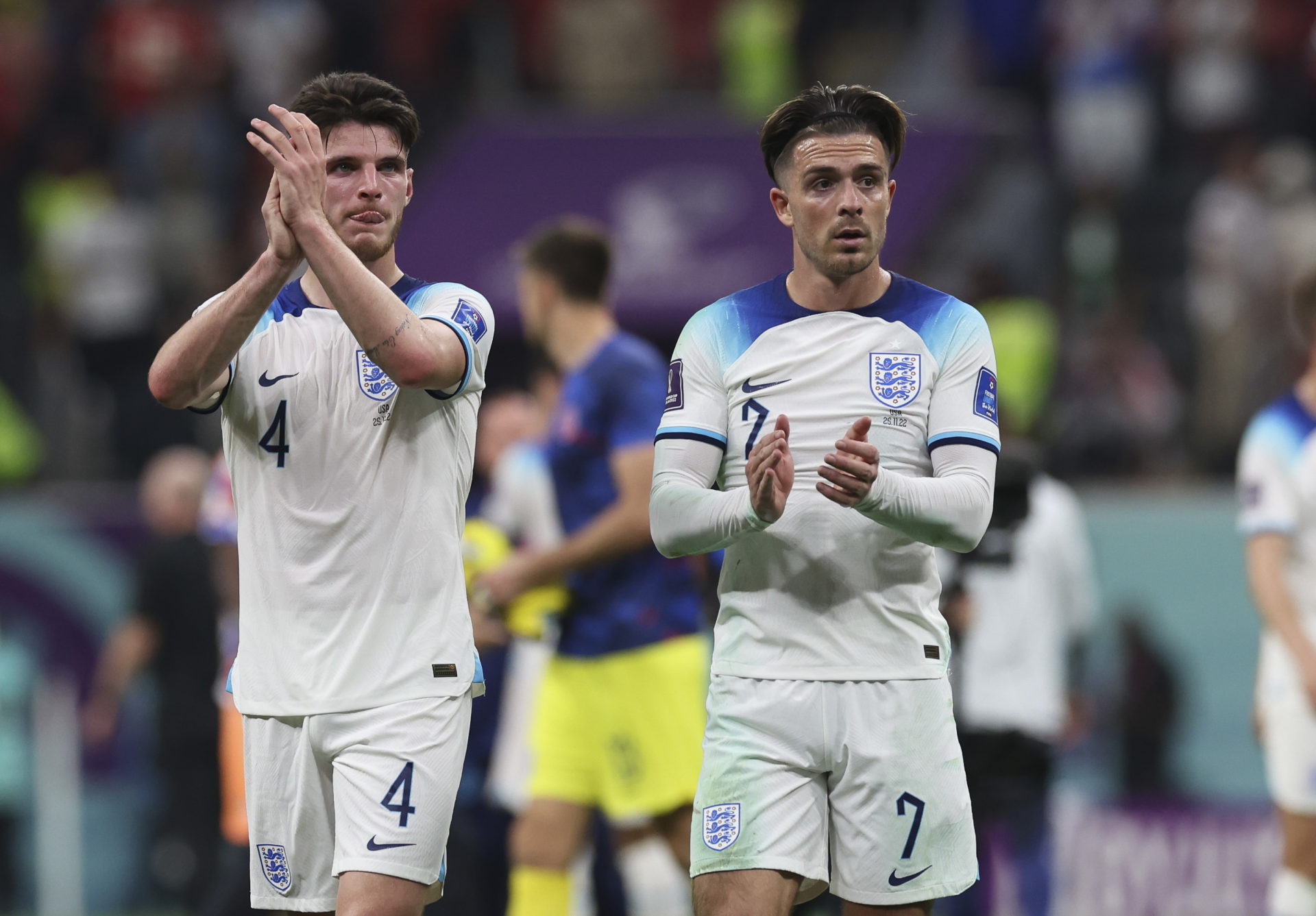 Southgate responded when asked about Rice and Grealish's actions after the game against Hungary, as quoted by The Telegraph:
I think we needed to be a little bit careful in how our interaction with the crowd was (against Hungary)," Southgate said – as reported by. We all recognise that certain things that happened weren't acceptable but also we ran a little bit of a risk of inflaming some of those situations. I think the boys have to have at the back of their minds that humility – Yes, we were playing well and we got a good result but let's keep our professionalism and keep our focus. We are going to have to play these teams again and we don't want to give them any additional motivation by any of our actions.
It was a stiff warning from Southgate, and the two players have clearly taken heed of their manager's advice.
And since then, the relationship between the two Premier League stars has blossomed, both on and off the pitch. They have actually become really good friends it seems.
West Ham star Declan Rice and Man City's Jack Grealish put on unbelievable show…
Rice and Grealish are regularly snapped laughing and joking together when on England duty with one another.
The 23-year-old and 27-year-old stars are essential to Southgate's plans. Rice is one of the first names on the team-sheet whilst Grealish is arguably our most potent threat from the bench.
The Hammers and City aces are two of the most talented players in the Premier League, there really is no doubt about that.
And both players showed their unbelievable class off the pitch whilst out in Qatar today…
West Ham star Declan Rice and Man City's Jack Grealish put on unbelievable show
Rice and Grealish were chilling by the pool out in Qatar this afternoon.
And then a spontaneous game of keepy uppies with a twist commenced, as captured by the England Twitter admin…
That really is unbelievable talent that both players have displayed there.
With players like Declan Rice and Jack Grealish, England surely have a real chance of winning the 2022 World Cup this winter.
The Three Lions seem to be in great shape, and have been one of the most impressive teams at the tournament so far.
This weekend is when England's World Cup campaign really starts though, and we will get a grasp of just how good this team is.
Next up for Southgate's men is France, and the likes of Grealish and Rice will have to be on their very best form, we are to progress through to the semi-finals of the competition.
On our day, we can beat any team. I must say though, Didier Deschamps side will represent the sternest challenge Southgate and his players have faced in tournament football since he took over as manager of England.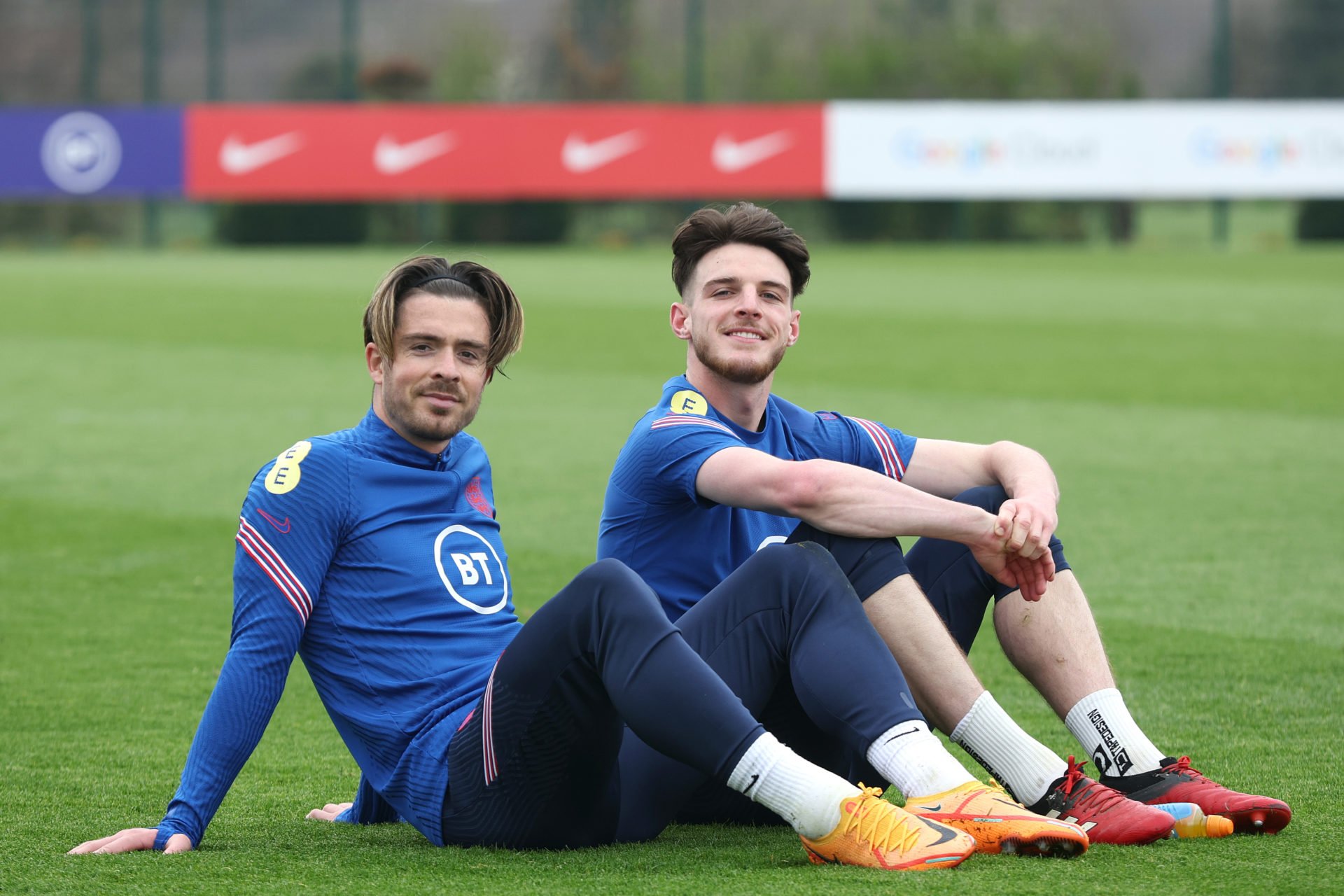 The French, led by the explosive Kylian Mbappe, are one of the favourites to win the World Cup, alongside Brazil and England.
The Brazilians and the French players have a lot more experience of winning, certainly at international level.
The mood amongst the England camp is great though and let's have it right, France will definitely not be relishing coming up against us. We're the top scorers in the tournament so far and Jordan Pickford has kept more clean sheets than any other goalkeeper.
That's quite the combination!
Southgate has game-changers like Grealish, Buyako Saka, Harry Kane, Jude Bellingham and Phil Foden amongst his ranks. And at the same time, he has one of the very best holding midfielders in world football at his disposal in the form of Rice.
Declan Rice and Jack Grealish put on an unbelievable show around the swimming pool at England's base out in Qatar today.
Let's hope that they do the same on the pitch on Saturday night when we meet France in the quarter-finals of the 2022 World Cup!
Read also:
Spectacular 18-year-old West Ham talent surely making it impossible for David Moyes
Moyes reportedly now happy to sell 'unbelievable' player he signed for West Ham
Have something to tell us about this article?
Let us know