Declan Rice has suggested that Mark Noble is still good enough to come out of retirement and play for West Ham United.
The 35-year-old retired from playing football at the end of last season and he is now the West Ham Sporting Director.
Noble has already been very vocal about Declan Rice's future at the London Stadium, admitting that it might be impossible for West Ham to keep him.
READ ALSO: Huge West Ham boost, Graham Potter says 'world-class' £50m Chelsea ace had a setback in training
Rice took the armband off of Noble when he hung up his boots at the end of last term.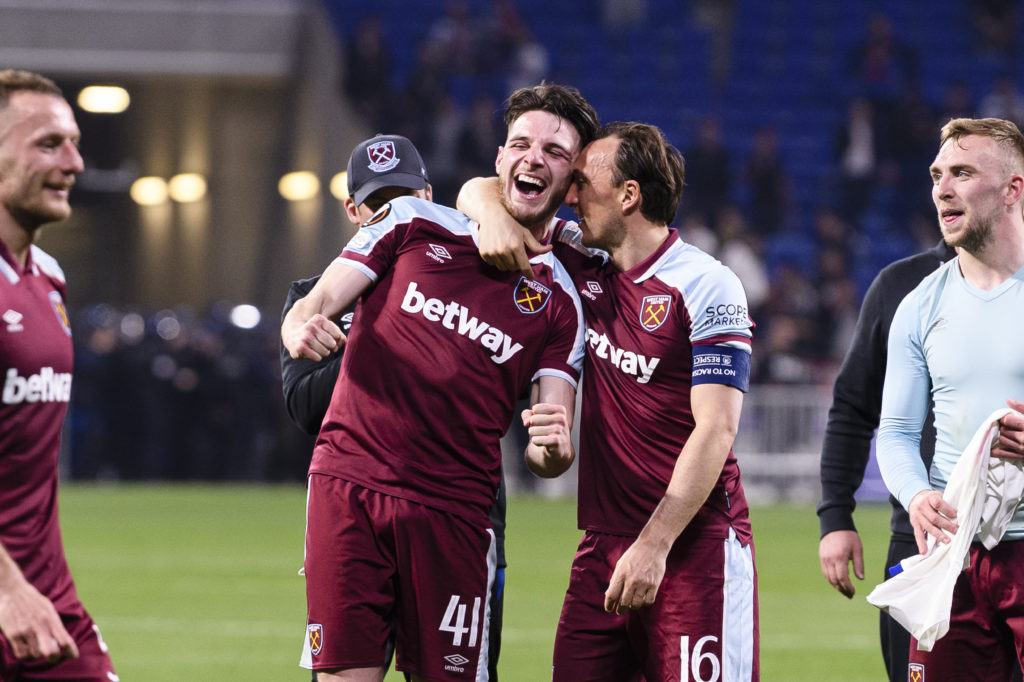 Things haven't gone as smoothly for the Hammers this season, and many have suggested that Noble's retirement had a big part to play in our subsequent downfall.
David Moyes is under no illusions as to how important Mark Noble was off the pitch at the London Stadium, and neither are the West Ham fans.
Rice has gone one step further though and highlighted how the Hammers miss the 35-year-old on the pitch as well…
Declan Rice makes Mark Noble claim
The 24-year-old forged a great relationship with the former Hammers skipper during their tome together in East London.
Rice has taken up the baton from Noble after he retired at the end of last season.
And Dec has suggested that the 35-year-old is still good enough to be playing for West Ham today, if that's what he wanted to do:
'We're like brothers to be honest with you. I'm not just saying it, if he wanted to he could have done another season for sure. I've had a kick around with him since and he's still got it. He's very, very good. He could easily still put on the kit for us, the invite is always there if we want to sign him on a free!"
That's a strange thing to say about Noble really. I mean let's all be honest here, he wasn't good enough last season, so he definitely wouldn't be a year later!
If we're being really honest, Noble's legs went a few years ago and that's something that will always make it almost impossible to compete in the Premier League.
However, it is clear to see that we are missing Noble's leadership skills and influence in the dressing room this season.
Declan Rice has done a fine job filling in for Mark Noble but at the end of the day, he's still only 24. And there are a lot of skills needed from a club captain that can only be earned with experience.
Unfortunately for us, we probably won't get to see Dec mature as a player or a person at the London Stadium, with a summer exit on the cards for the midfielder. And that's a real shame.
READ ALSO:
Sensational £25m man is West Ham's best ever value for money signing in the PL era
talkSPORT's Jim White makes £100 million Manchester United bid claim about Declan Rice
'I can't reveal my source': Journo shares what he's been told about Declan Rice to Arsenal
Related Topics
MORE WEST HAM STORIES