David Moyes hunted down the referee and unleashed a tirade as Li-VAR-pool edged another lucky win over West Ham.
West Ham have been extremely harshly done by in their previous two 1-0 defeats to Liverpool.
And it was the same old story as the Reds got all the decisions and a big helping hand from VAR to beat the Hammers 2-1.
Lucas Paqueta had given West Ham a deserved lead over Liverpool in stunning style with a bullet from outside the box.
Liverpool looked like they were there for the taking at the back – as they have done for much of the season.
But Jurgen Klopp's side equalised when Nayef Aguerd allowed Cody Gakpo far too much time outside the box and he hit a bouncing strike into the corner from distance.
Questions will also be asked of Lukasz Fabianski but it was the defenders who were to blame.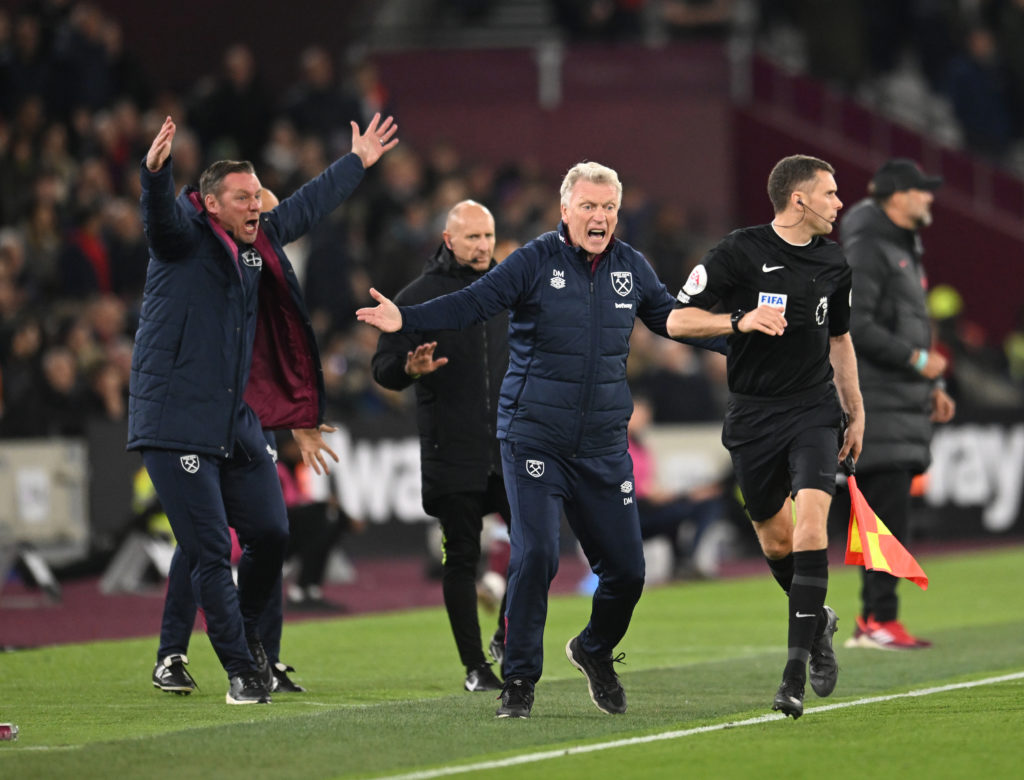 Same old story against a so-called "big six" side
Jarrod Bowen scored a wonderful goal to give West Ham a 2-1 lead in the second half.
But it was ruled out for offside by VAR. The decision to rule out the goal sucked the life out of West Ham and gave Liverpool a wake-up call.
The Reds improved and somewhat inevitably went ahead thanks to rank awful marking from a corner by Michail Antonio and Said Benrahma.
The striker failed miserably to stick to Joel Matip who rose to power home a header.
David Moyes hunts down referee and unleashes tirade as Li-VAR-pool get another lucky win over West Ham
As West Ham looked for a way back into the game, Thiago Alcantara clearly handled the ball not once by twice in the box.
The referee Chris Kavanagh – predictably given the opposition – did not give the penalty.
But it was fully expected it would be awarded via VAR. It wasn't. And that sent West Ham manager David Moyes into a rage.
Moyes hunted down the referee and unleashed a tirade at him on the pitch as Li-VAR-pool edge another lucky win over West Ham.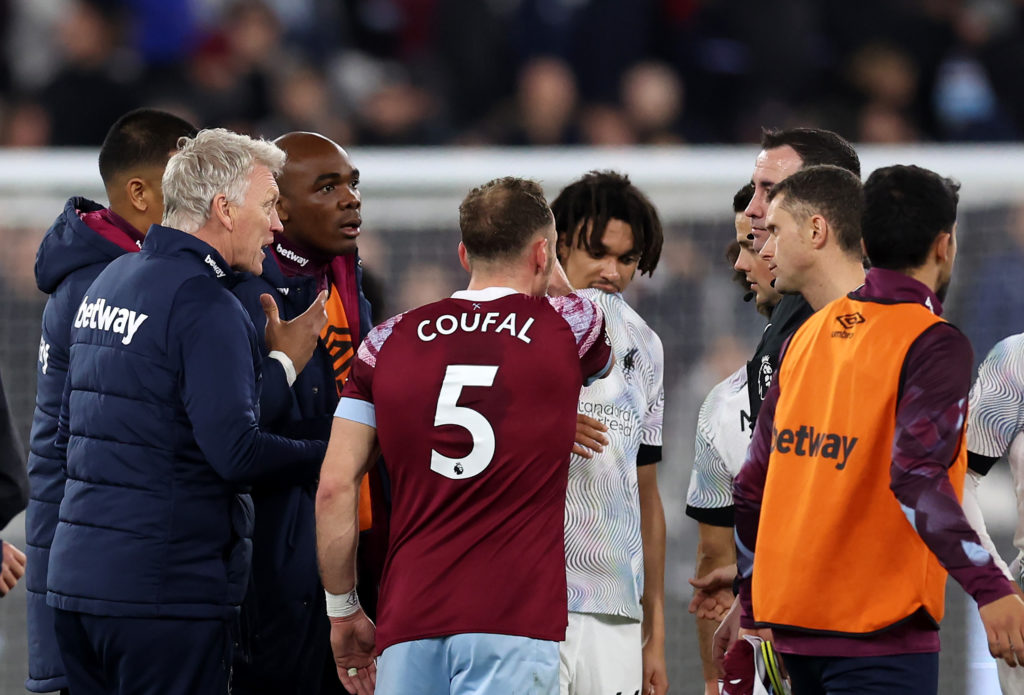 Thiago handball cannot be compared to Soucek call
The Scot strode onto the pitch ready to give Kavanagh both barrels. Cameras captured the Hammers boss lambasting the official. He could be heard asking him why he needed VAR to get involved when it was a clear penalty.
Many will point to Tomas Soucek's handball which was not given in the draw with Chelsea back in February.
But that was because the arm was being used by Soucek to break his fall to the ground.
That was NOT the case with Thiago's handball.
An atrocious decision. But one we've come to expect after years of playing in matches against Liverpool and the so-called "big six".
When asked about the incident after the game, Moyes made a salient point. Thiago's reckless lunge in the box – and not getting the ball – means the excuse about his hand being used to support his body cannot be used.
When asked whether he had any explanation from the ref, Moyes responded: "Of course not, you're joking aren't you?"
MORE WEST HAM NEWS
Related Topics
Have something to tell us about this article?
Let us know