As the dust settles on another fantastic West Ham United win away at Leeds United one incident in particular set alarm bells ringing for many.
West Ham went 1-0 down in the first half as Raphinha gave Leeds the lead.
But when West Ham midfielder Tomas Soucek swept home after Michail Antonio had challenged Leeds 'keeper Illan Meslier it was nothing less than the visitors deserved.
The referee on the day, Kevin Friend, and his assistants were happy with the goal.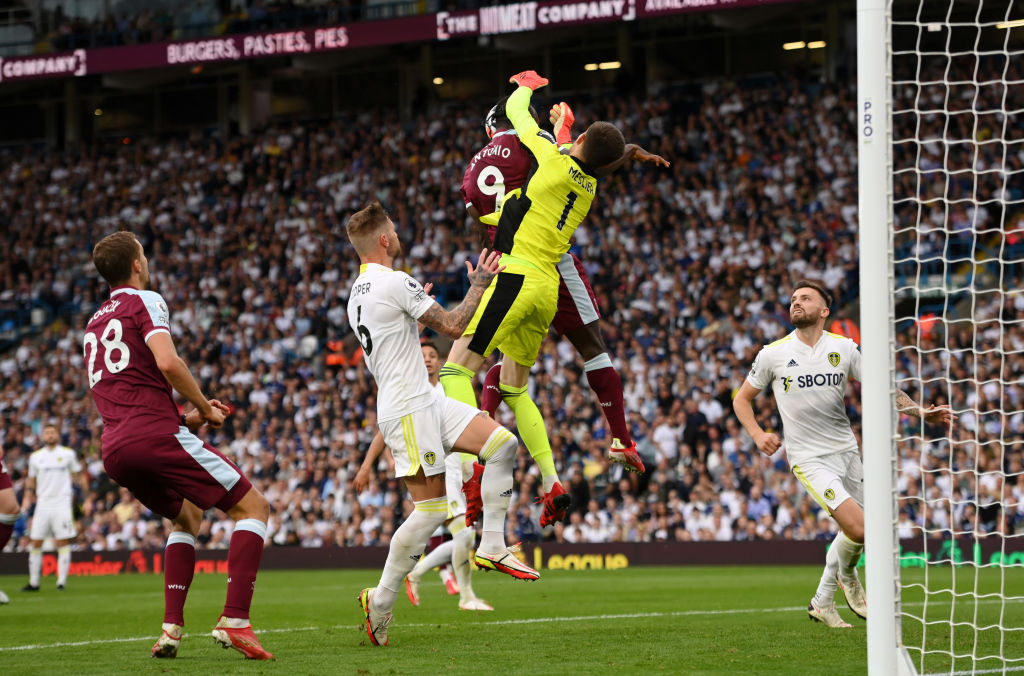 Friend turned foe for West Ham but bizarre incident is swept under the carpet
Friend felt Antonio's challenge on Meslier was fair and the goal was given.
VAR intervened and – after Friend was sent for an on-field review at the side of the pitch – the goal was rightly chalked off.
West Ham's striker would get his moment in the 90th minute. But for now he was adjudged to have fouled Meslier when his arm accidentally struck the Frenchman in the face.
Fair is fair. The goal was chalked off. VAR was applied correctly in this instance and West Ham had little complaints.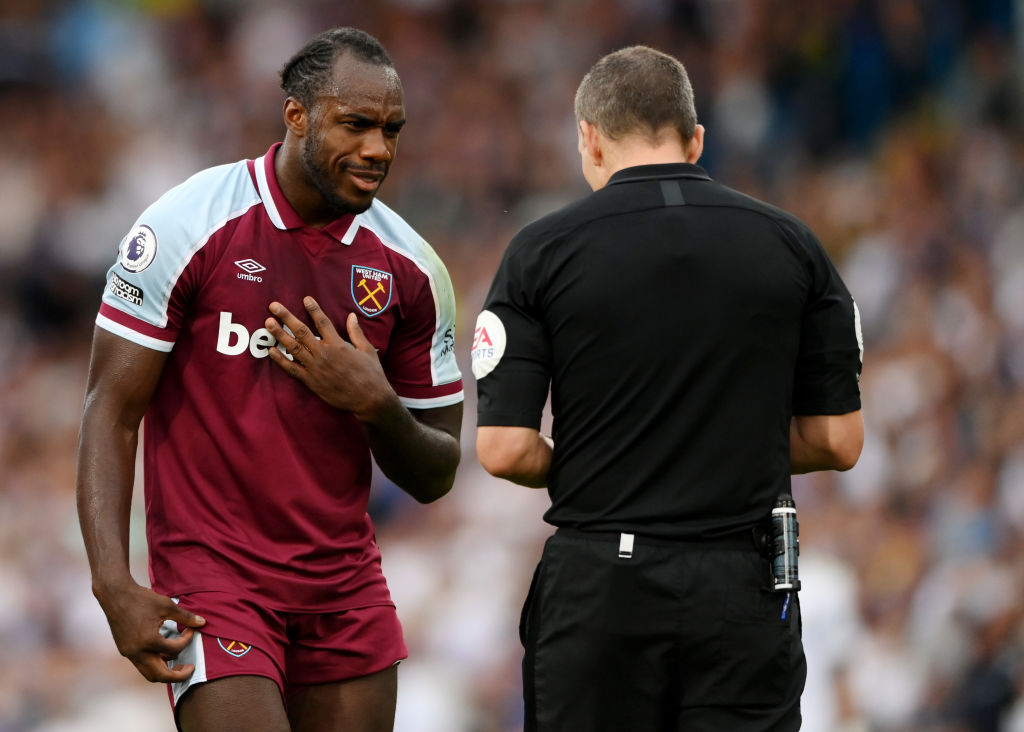 Ref didn't book Antonio and was about to restart play but changed mind based on reaction of home crowd to big screen replay
Friend had a word with Antonio to his explain his decision and the striker accepted it.
Then came a bizarre moment which for some reason has escaped any meaningful analysis – until now – probably because West Ham went on to win and it was rendered somewhat irrelevant.
As Friend strolled over to set the ball down for the Leeds free-kick, a replay of the incident was shown on the big screen inside Elland Road and the home fans – predictably – were calling for West Ham's forward to be sent off or booked.
As you can clearly see here again in West Ham's Behind The Scenes video feature (8mins 30secs to 11mins), on hearing the reaction of the crowd, Friend looks up at the big screen and then – despite having already watched it on the VAR monitor, changed his original decision and spoken to Antonio – goes back an books the striker.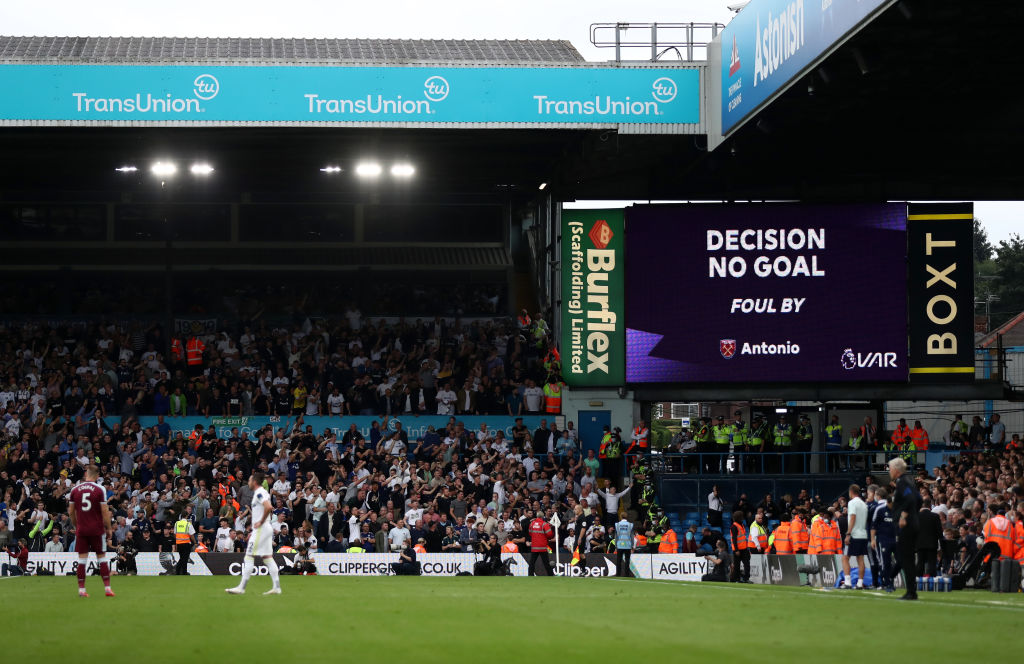 Friend actions set a dangerous Premier League precedent of trial by TV inside packed stadiums
Whether anyone thinks it is a booking or not is irrelevant.
The fact is the referee did not even think it was a foul in the first place. He elected not to book Antonio having reviewed the VAR footage.
And yet after the incident was showed on the big screen he suddenly changed his mind and got the yellow card out, much to the bemusement of Antonio and his Hammers teammates.
It left Antonio walking a disciplinary tightrope for the rest of the game. After Jarrod Bowen had forced an equaliser, Antonio scored a superb winner in the last minute.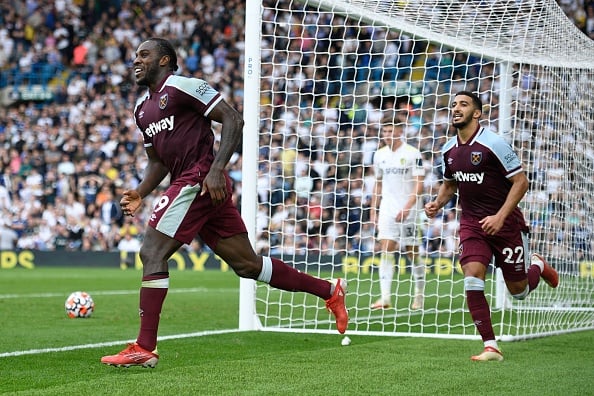 West Ham win saw matter rendered irrelevant but let's think about the bigger picture
And he even admitted after the game he did not celebrate with the West Ham fans following his exhilarating last gasp clincher for fear of getting another sending off.
Friend's actions set a dangerous precedent and need to be highlighted.
You can bet your bottom dollar if it was one of the so-called "big clubs" or more of a household name player involved then it would have been.
Trial by big screen video inside packed stadiums is a slippery slope for the Premier League.
In other West Ham news:
David Sullivan Exclusive: 'We have total unity' Co-owner speaks out on PAI Capital's takeover bid claims.
David Gold agrees with Angelo Ogbonna about West Ham fans at Leeds.
Moyes: 'You've nay got a cluey Souey'.
Have something to tell us about this article?
Let us know