Jurgen Klopp shows he's a proper football man with a brilliant and insightful tribute to West Ham United and David Moyes ahead of the Liverpool clash.
As a rule Premier League managers are boring in press conferences and interviews.
It's understandable in many ways. They are required to speak to the press three or four times a week whether they want to or not. And most dole out boring, straight bat, robotic answers.
That is a criticism that can even be levelled at West Ham boss Moyes. But it is certainly not something Klopp can ever be accused of.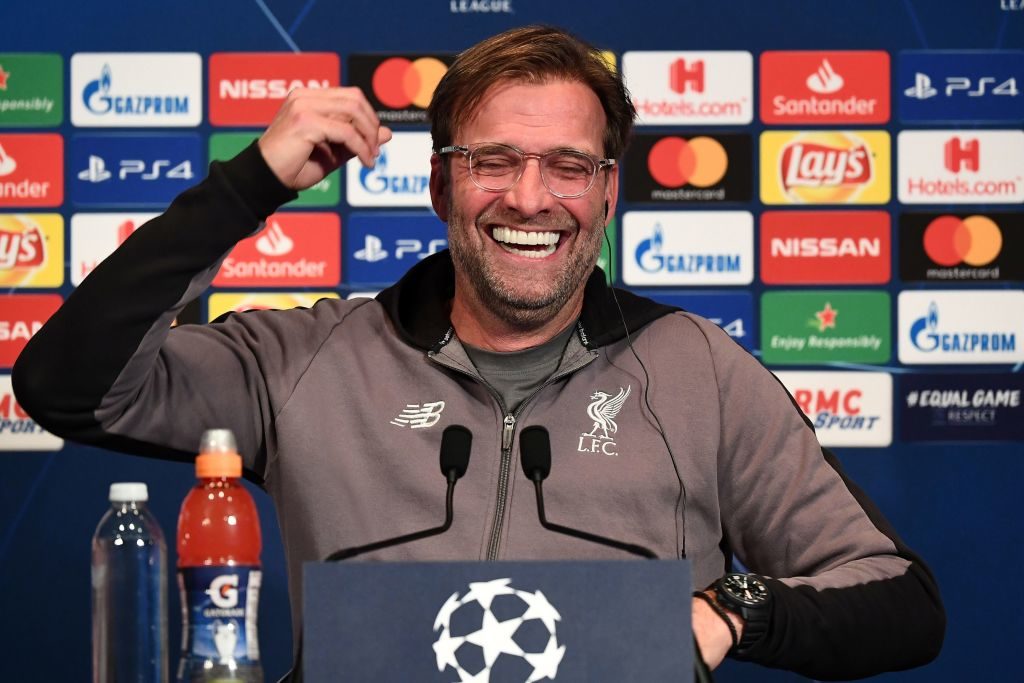 Pep Guardiola was interviewed by Sky Sports ahead of the Manchester derby. The Spaniard looked like he couldn't be bothered and it showed in his dull as dishwater answers.
Another big game this weekend sees West Ham entertain Liverpool.
Moyes is about to oversee his 1,001st match as a manager against the mighty Reds.
And should West Ham beat Klopp's side the Hammers will leapfrog them – possibly into second place depending on the outcome of the Manchester derby – with almost a third of the season gone.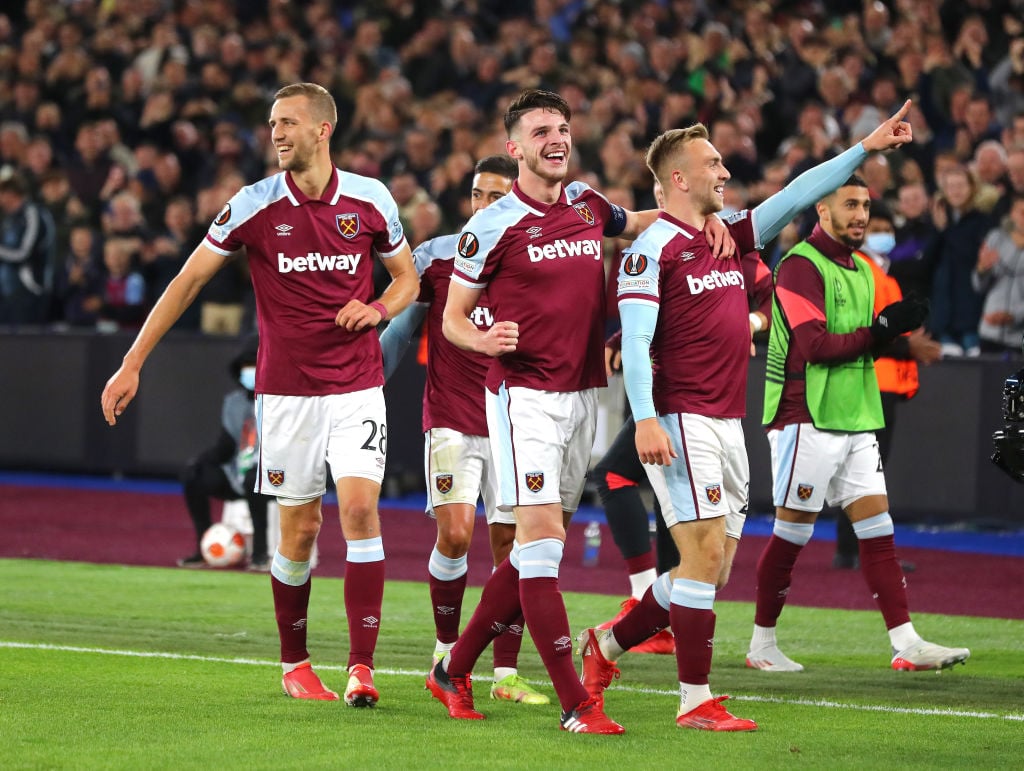 Lose and, regardless of results elsewhere, West Ham will likely go into the international break still in fourth place in the table.
That probably tells you everything you need to know about West Ham's progress under Moyes.
The usual platitudes have been offered up to Moyes during his special week.
But when asked about Moyes and facing West Ham, Liverpool's manager did not offer up a templated, stock response.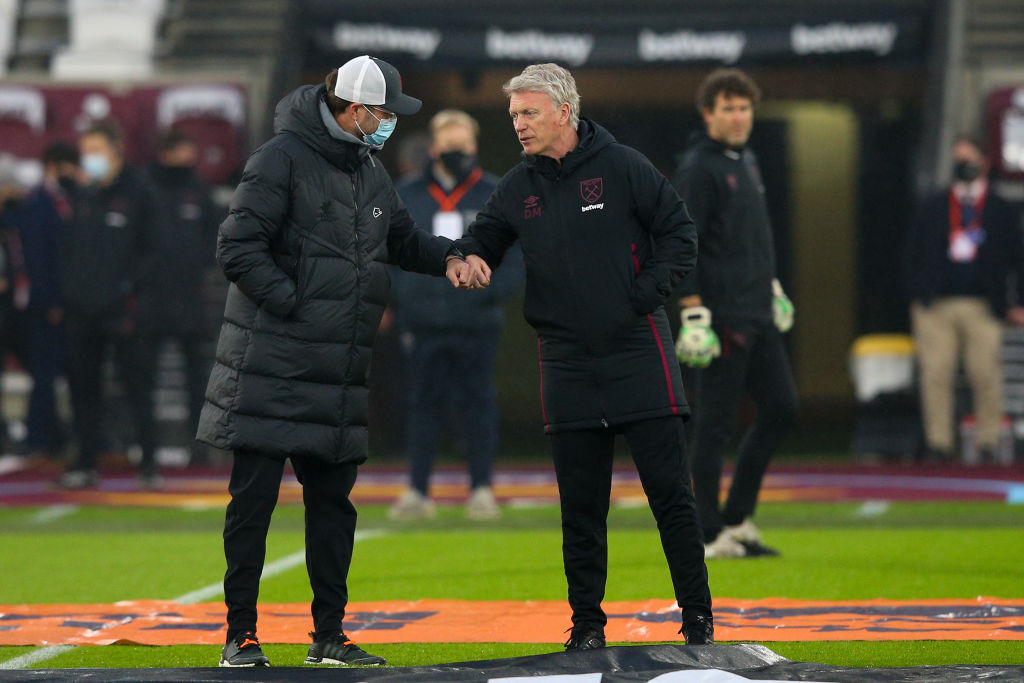 Klopp showed he is a proper football man, taking the time to analyse West Ham and precisely what Moyes has done to turn them from a flaky side capable of threatening the likes of Liverpool in a one-off game into a team who can stand toe-to-toe with them over the course of a season.
Or as Klopp now describes the new West Ham under Moyes – 'the full package'.
Jurgen Klopp shows he's a proper football man with brilliant tribute to West Ham ahead of Liverpool clash
Here is Klopp's full, brilliant assessment of the Hammers from his pre-match press conference (Liverpool FC).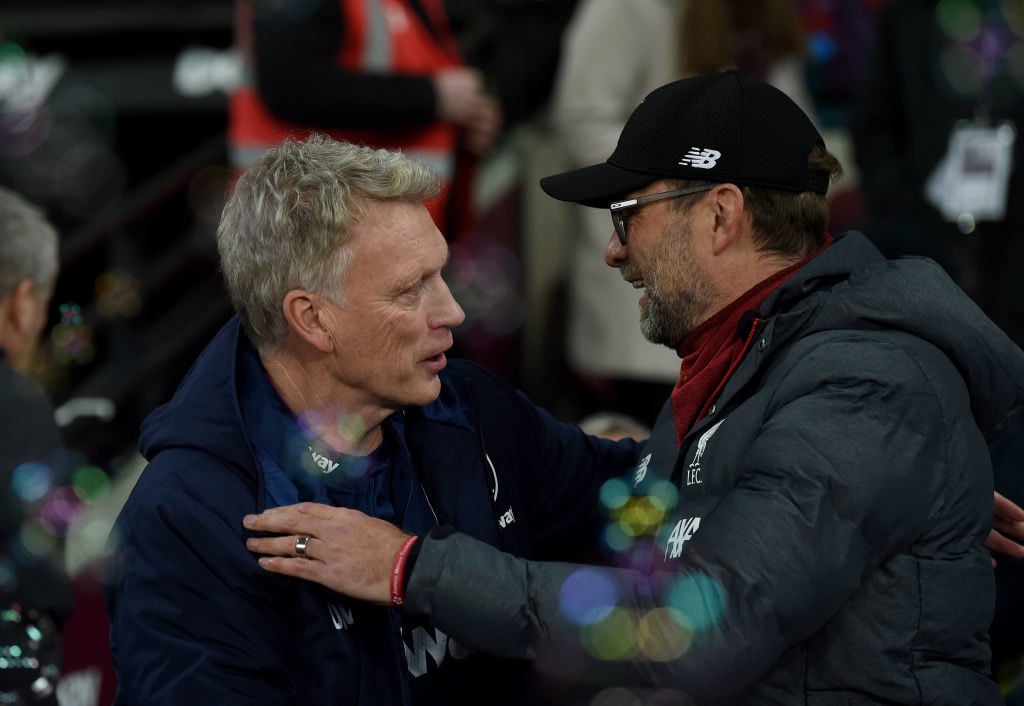 And he [Moyes] gets better and better and better, how I see it. That's possible obviously; even after 999 games you can have still space for improvement and Moyesy, I don't know if he reinvented himself again or whatever, I don't know him long enough for that obviously, but it's absolutely incredible.

Honestly, it is really good what West Ham are doing and I think everyone who watches them sees that. That's a high-energy team, a counter-pressing team, they have counter-attacking but playing as well. There were always moments in the past when you played West Ham they defended deep and we had to be really aware of set-pieces and counter-attacks.

Now, it's a full package, an absolute full package and they are rightly so really high in the table and are top of the table in their Europa League group as well.

I watched the game last night completely and Genk did obviously a good job; they were nasty, they were brave, but in the end they were lucky to get a point and with a lot of changes – it was not the 'first' line-up we will face on Sunday – they still played how I would consider, meanwhile, West Ham football.

It was all there, what you need. They could rest then Antonio from a specific moment, Soucek didn't start. They are in a good moment. It will be a really good game, I'm pretty sure. We are in a good moment, they are in a good moment, that's how a football game should be before a game.

I'm really excited to play it. It will be a tough one, but thank God, for them as well.

We just watched them and it's fun, it's good fun watching them. They became a high, high intense team and you can only become a high intense team when you are on the front foot, and that's what they are.

Yes, when you want to finish off the situations you create you need top strikers, that's what they obviously have. I like Bowen a lot, he made his way up from, was it Hull, if I'm right? And took not too long to get there, to show exactly what kind of player he can be in the Premier League as well, made big steps. Antonio, since I'm in England, played five or six different positions, one of them was right-back. He is obviously a proper, proper striker. Fornals is back in the Spanish national team; had his downs maybe there but is an incredible player, scored against us in each game, if I'm right. Is a footballer, can play between the lines but has the speed to get in behind.

Benrahma is a really exciting one, he was at Brentford obviously already one of the crazy front three and is now obviously a proper, proper figure in the West Ham offensive play. Then you have on the double six, two with Rice and Soucek, two guys who are a threat up front, passing-wise, Soucek with the head, Rice with all he has, so shooting, passing, all these kind of things. Incredibly quick and smart full-backs. And they have obviously now the centre-half pairing they wanted, brought in Zouma.

And then have Fabianski, a very experienced goalie. So that's a good team, a really good team. Now you saw the team playing on Thursday, made a couple of changes and they are still a really good team. That makes a successful football team. The only problem West Ham have, which we all have: this league is so incredibly good that you have to be on your top every day.

Not only on Thursday, not only on Wednesday – no, on Saturday, Sunday, Monday and whenever as well. That makes it so exciting. The better you get the more pressure you have to win football games as well, that's the development as well, we all have to go through that. We know we face an exceptionally well organised, well trained and well equipped opponent on Sunday.

Jurgen Klopp on West Ham United and the job done by Moyes (Liverpool FC)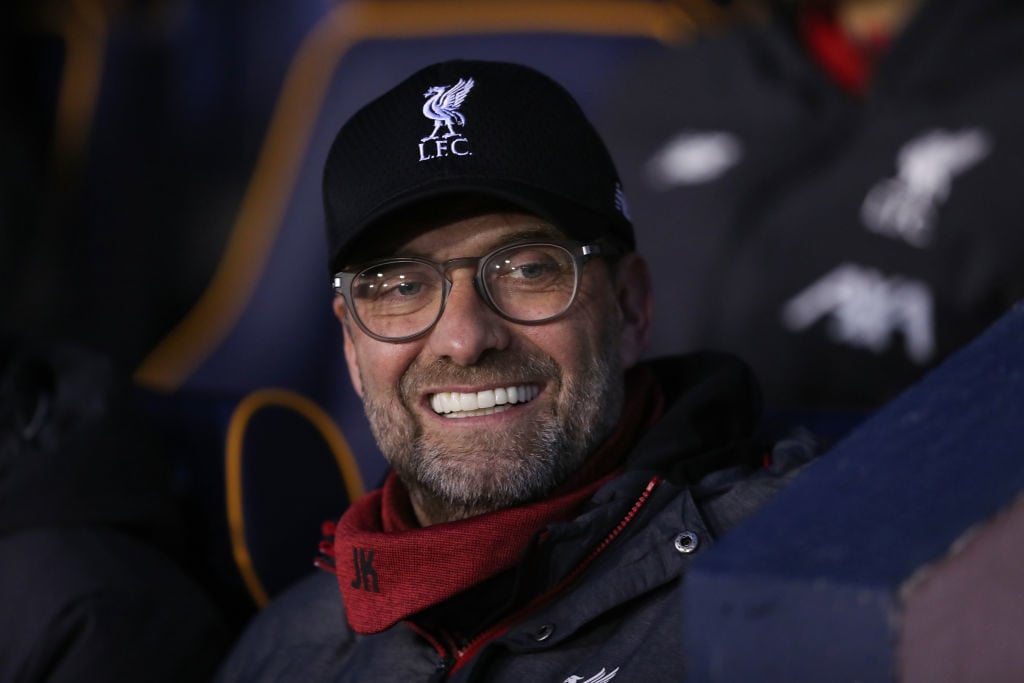 Fair play to Klopp.
All he was asked was 'have you been impressed by West Ham'.
He delivered what is one of the best answers I have ever seen from an opposition manager.
Whether you like him or not, he's a proper football man. And that has to be respected.
More West Ham news:
Related Topics
Have something to tell us about this article?
Let us know