The pathetic tabloids have decided to drag up Kurt Zouma cat-gate over a West Ham United captaincy non-story.
In February 2022 news broke of the now infamous Kurt Zouma cat-kicking scandal which rocked West Ham.
The Hammers defender was rightly criticised, forced to apologise and endured weeks of negative press he brought on himself with his own stupid actions.
But, as always seems to be the case in modern society, it went way beyond the pale as the world and its wife threw stones from their glass houses.
The West Ham star was mercilessly vilified and abused on and off the pitch – including racially – without an ounce of the sympathy now being called for over the Harry Maguire situation.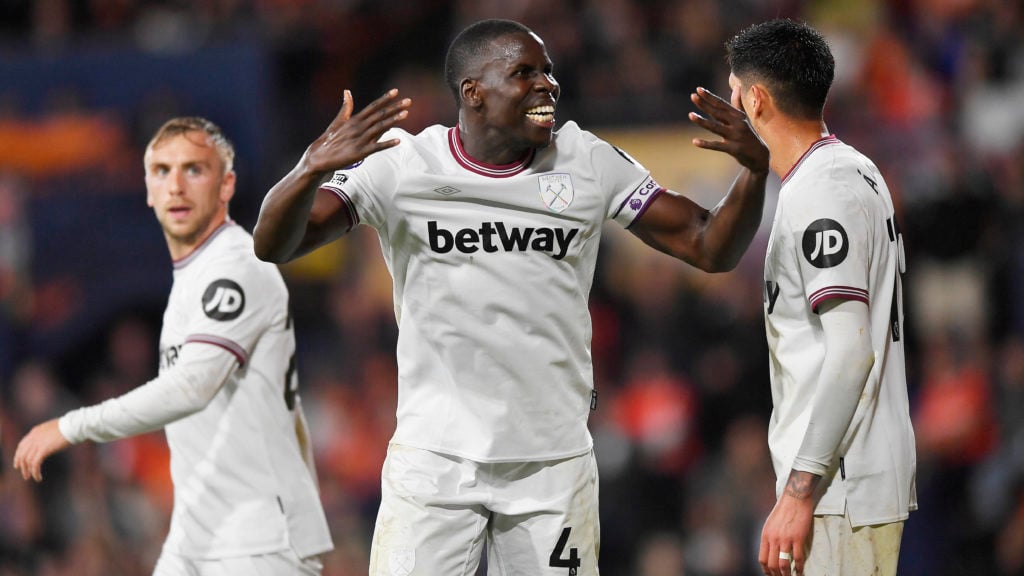 Pathetic tabloids drag up Kurt Zouma cat-gate over West Ham captaincy non-story
It very literally took the outbreak of war for the Zouma story and West Ham's handling of the situation to be ousted from the front pages of all the national tabloids.
Zouma has slowly but surely turned things around, though, maintaining a consistent level of performance for West Ham and keeping his head down.
So much so David Moyes had made him captain this season following the departure of Declan Rice.
John Terry of all people leapt to Zouma's defence when Henry Winter launched a needless dig at the centre-back and Moyes recently over the Hammers captaincy.
Now the pathetic tabloids have dragged up the Zouma cat-gate over a West Ham captaincy non-story.
When asked about the West Ham captaincy again in his pre-match press-conference, Moyes confirmed – as he has every week of the season so far – that Zouma will continue to skipper the side.
Two complete non-stories somehow make national story
Given the Hammers are unbeaten, why would Moyes suddenly change?
But for some reason – probably due to the slow news week amid the international break – the likes of The Daily Mail and The Sun have decided to drag up the cat-kicking scandal again – 19 MONTHS ON.
The articles are an attempt to paint Zouma as some sort of reformed bad boy or someone with a troubled past.
But as Moyes pointed out in his press conference this week, that incident remains very much a hugely uncharacteristic blip in the life of a well-liked player and person.
The Sun even bizarrely put the fact it was 19 months ago in their headline – nothing like old news!
With the best team on the planet in town in the shape of Man City and the chance for West Ham to go top of the Premier League, surely there are better, more relevant things we can talk about.
The fact Zouma remains West Ham captain is a non-story. And so too are the events of close to two years ago for which he has profusely and repeatedly apologised.
READ ALSO
Related Topics
MORE WEST HAM STORIES