The cold hard truth about Michail Antonio at West Ham as striker faces criticism following one-on-one miss against Man City.
The old saying 'you can't have your cake and eat it' seems perfectly apt for West Ham when it comes to Michail Antonio.
One of the priority positions West Ham fans wanted to see strengthened in the summer transfer window was up front.
Especially after the departure of Gianluca Scamacca following just one season with the Hammers.
The Italian was sold with the words of Antonio ringing in his ears that he simply was not a David Moyes type of striker.
It was brutal, somewhat unhelpful, probably unwise, but ultimately true.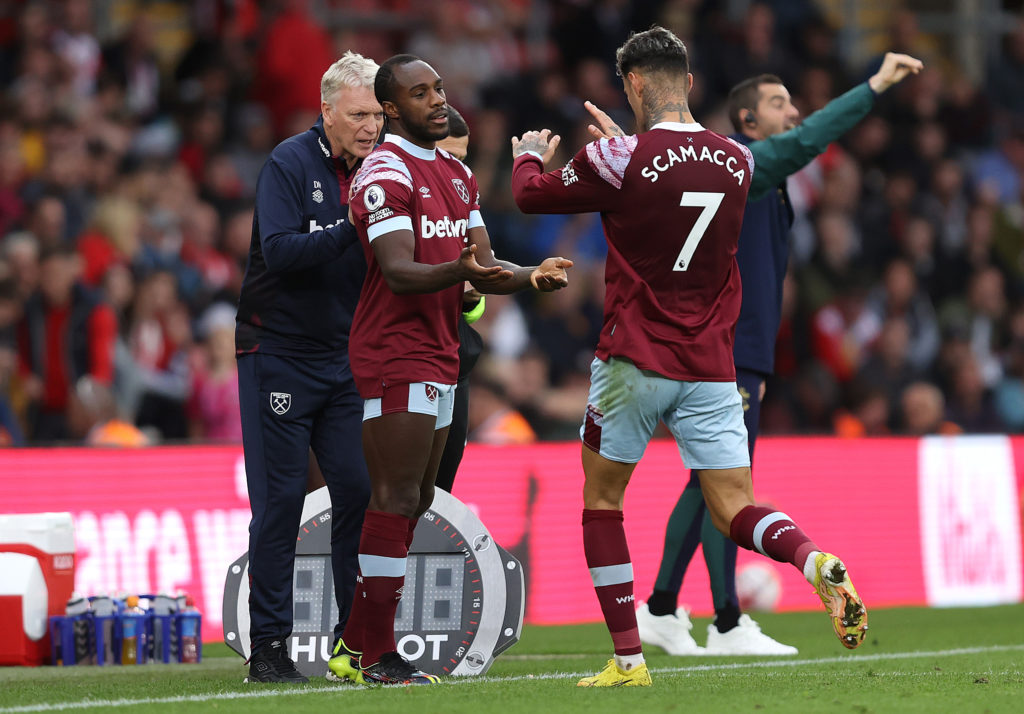 Hammers striker polarises opinion again after spurning golden chance at key time against Man City
Clearly medium to long term West Ham simply must find an heir to Antonio up front. He turns 34 in March and the Hammers are still relying on the Jamaican as their starting number one forward.
Antonio has been a fantastic servant for West Ham United. He has probably paid back the £7.5m outlay which saw him sign from then Championship Notts Forest some 20 times over given the rich rewards on offer to clubs for being in the Premier League.
He has scored historic goals, played in all manner of positions and is of course West Ham's leading Premier League goalscorer. Although at times it seems Antonio himself forgets that football did exist before 1992 and he has some way to go to mix it with West Ham's true all-time top scorers.
After an excellent start to the season the striker was back to polarising opinion among some again in the defeat to Man City.
Antonio had a fantastic chance on 56 minutes with the scores at 1-1. He was put through by Lucas Paqueta and burst past Ruben Dias and co to bear down on Ederson.
The Brazilian goalkeeper showed why he is one of the best in the world by waiting until the perfect moment to advance and smother the ball at Antonio's feet.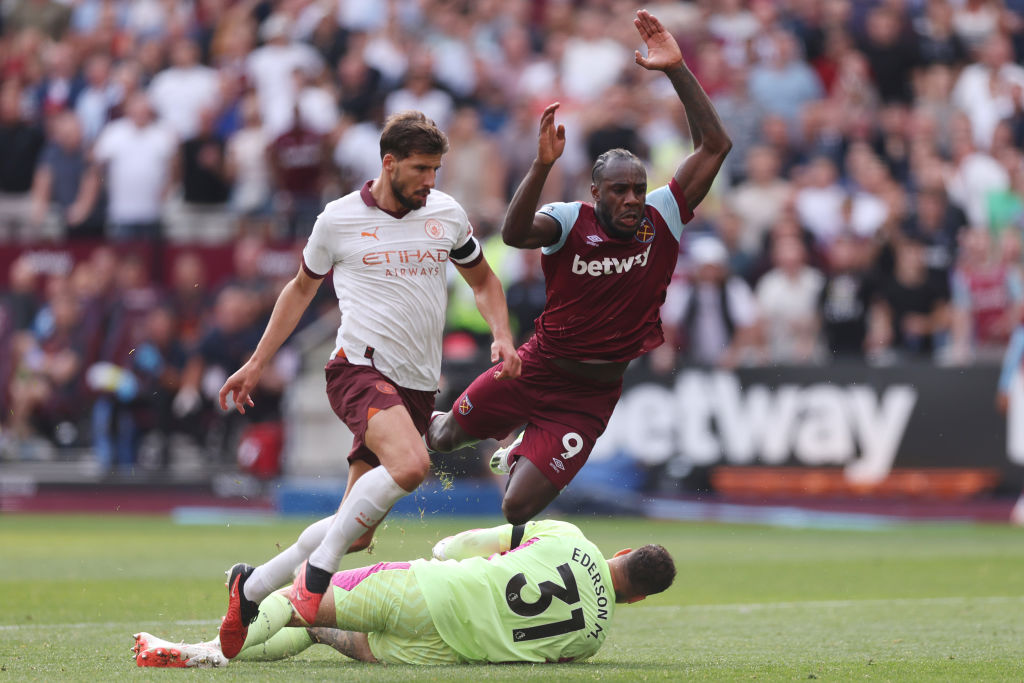 The cold hard truth about Michail Antonio at West Ham as striker faces criticism following one-on-one miss against Man City
But to a man West Ham fans inside the London Stadium turned to one another to bemoan yet another spurned one-on-one from Antonio.
For Antonio, one-on-ones are like kryptonite. When he has too much time to think, the 33-year-old more often than not fluffs his lines or makes the wrong decision, a bad touch or takes the ball the wrong side.
Antonio is at his best when the situation requires instinct rather than cold blood.
The frustration of supporters is understandable. Many feel Moyes has given up on the likes of Sebastien Haller and Scamacca too soon and that he made a mistake not bringing in another forward in the summer.
Valid arguments. After all taking that chance against City could have completely changed the game.
The majority of top level strikers in the same position would have scored. Antonio's finishing has always been erratic and he tends to get his goals in spells.
But this is the cold hard truth about Antonio at West Ham as the striker faces criticism following his one-on-one miss against Man City.
As Antonio told Scamacca, to play for Moyes and in this system, you have to be able to do a bit of everything and graft.
The best West Ham strikers down the years have usually been of that ilk.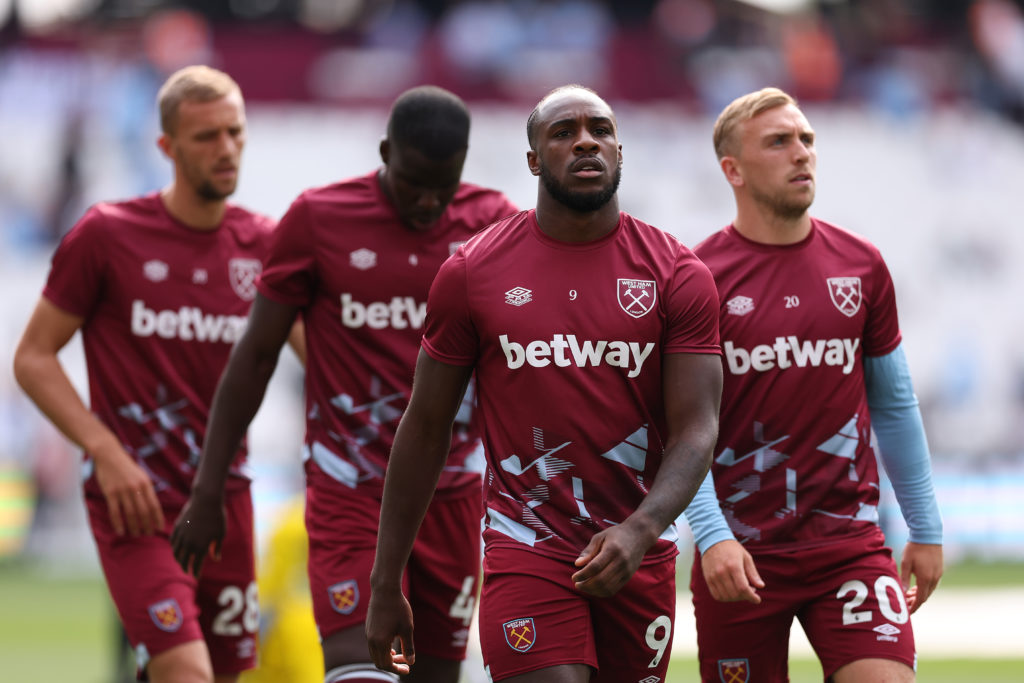 You can't have your cake and eat it with players at West Ham – and on the rare occasion you can, they don't stick around long
Antonio actually had a decent game and it is always a thankless task playing up front on your own against Man City.
He brings power, pace, hard work, aerial threat and the rough guarantee of around 10 goals per season to this West Ham team.
When do you ever see a player outpacing and out muscling Man City's defence in the way Antonio did to create that one-on-one opening? You will be able to count those occasions on one hand across a season.
If Antonio could finish on top of all that – taking that guaranteed goals tally closer to the 20 mark – then quite simply he would not be at West Ham.
Because strikers who can do all of that and guarantee such a goal output are the most sought after players on the planet. And there is a dearth of them – just ask Moyes who has been trying to find one since letting Haller leave.
You can't have your cake and eat it at West Ham. That is the preserve of the mega rich like Man City.
On the rare occasion we do get to have our cake and eat it with a player, they don't usually hang around for long.
I present to you exhibits Declan Rice, Dimitri Payet and Marko Arnautovic from a lengthy list of supporting evidence. They were nearly joined by Lucas Paqueta too.
Whatever you think of Antonio the simple fact of the matter is that he would have been snapped up by a European giant years ago if he could do it all.
And it's not his fault West Ham cannot find an upgrade.
With Tim Steidten on board, though, there should be confidence that will change.
READ ALSO
Related Topics
MORE WEST HAM STORIES