West Ham United fans have been hitting out on social media and in WhatsApp groups over coverage of the win over Leicester by one particular outlet.
The Hammers were widely praised across the football sphere by journalists, pundits and even rival fans following a 4-1 win over the Foxes which put David Moyes's side top of the fledgling Premier League table.
It was the first time West Ham have been at the summit since 2006. And while it means very little at this early stage, two swashbuckling displays have resulted in a the Hammers scoring four goals in each of their opening two games.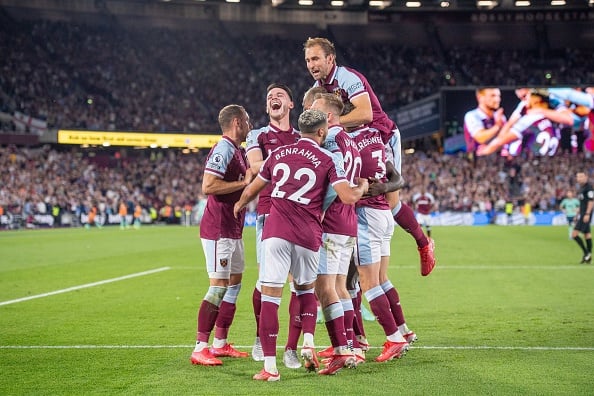 Swashbuckling Hammers win widespread praise but Metro had a different take
Following on from two three-goal hauls to end last season, it means West Ham have notched 14 in their last four Prem games.
West Ham were well on top and in control against Leicester even before Ayoze Perez was rightly sent off for a reckless challenge on Pablo Fornals.
And Moyes's men made their dominance count with a 4-1 scoreline.
But you wouldn't know it if you had picked up a copy of today's Metro newspaper.
The paper, which traditionally makes for some light reading by those bored stiff on London's Underground network, should – if anything – have a leaning towards West Ham in this particular instance given it is a London-focused publication.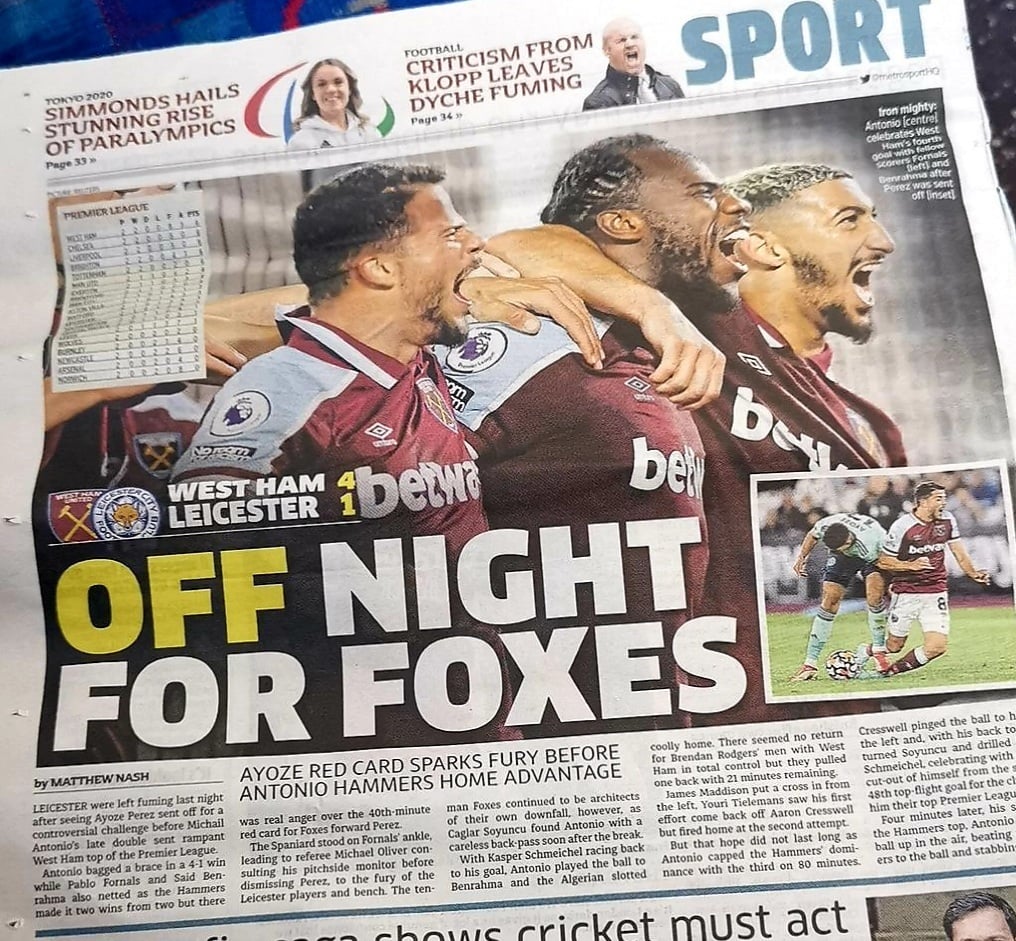 Plenty of positives for London focused paper to hang coverage on but anti-Hammers angle leaves fans baffled
There was plenty to hang the coverage on.
West Ham being top after another scintillating display. Michail Antonio breaking Paolo Di Canio's West Ham Prem goalscoring record. The triumphant return of 60,000 fans in a raucous atmosphere at the London Stadium following 18 months of playing the majority of games behind closed doors. Even Antonio's celebrations.
There were so many positives. Take your pick.
Instead The Metro's pathetic headline reads 'Off night for Foxes'.
The sub-headline then goes on to suggest Perez did not deserve to be sent off and that West Ham only won because he was: 'Ayoze red card sparks fury before Antonio Hammers home advantage'.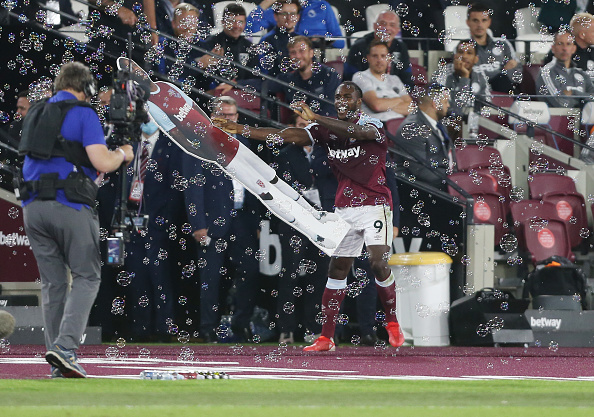 West Ham fans claim 'mainstream media bias'
Fury? From who exactly? Pundits, journalists and football fans seemed to be in universal agreement that he had to go for the clumsy challenge, even if it was unintentional.
Leicester boss Brendan Rodgers even admitted he could understand why Perez was sent off.
West Ham fans have been slating the coverage on social media, saying it is a prime example of the mainstream media bias that exists in football.
Some suggested the reporter might be a bitter Tottenham or Arsenal fan. Perhaps even Millwall such was the strength of feeling about the way the match was reported.
But West Ham fans should discard The Metro's negative approach from their minds just like the paper gets discarded on tube carriages across the city.
In other news, 'Clowns' Sinclair hits out as West Ham fans make mockery of lazy myth.
And Hero striker pictured sitting with fans to watch West Ham beat Leicester.
Related Topics
Have something to tell us about this article?
Let us know