It was a tale of fireworks, Millwall shirts and balaclava-clad berks but West Ham schooled Alphabet FC.
West Ham fans the world over are waking up this morning like they've slept with a coat hanger in their mouths.
No it wasn't a dream, West Ham are in their first European final for 47 years.
And fully deserved it is too after the 3-1 aggregate win over Dutch side AZ Alkmaar.
West Ham will play Fiorentina in the Europa Conference League final in Prague on June 7th.
Should the Hammers win, it will end a 43-year major trophy drought and deliver a first European trophy since 1965.
Leading 2-1 from the first leg, West Ham stood firm against AZ Alkmaar in Holland and scored a brilliant late goal through Pablo Fornals to seal another memorable night in the club's history.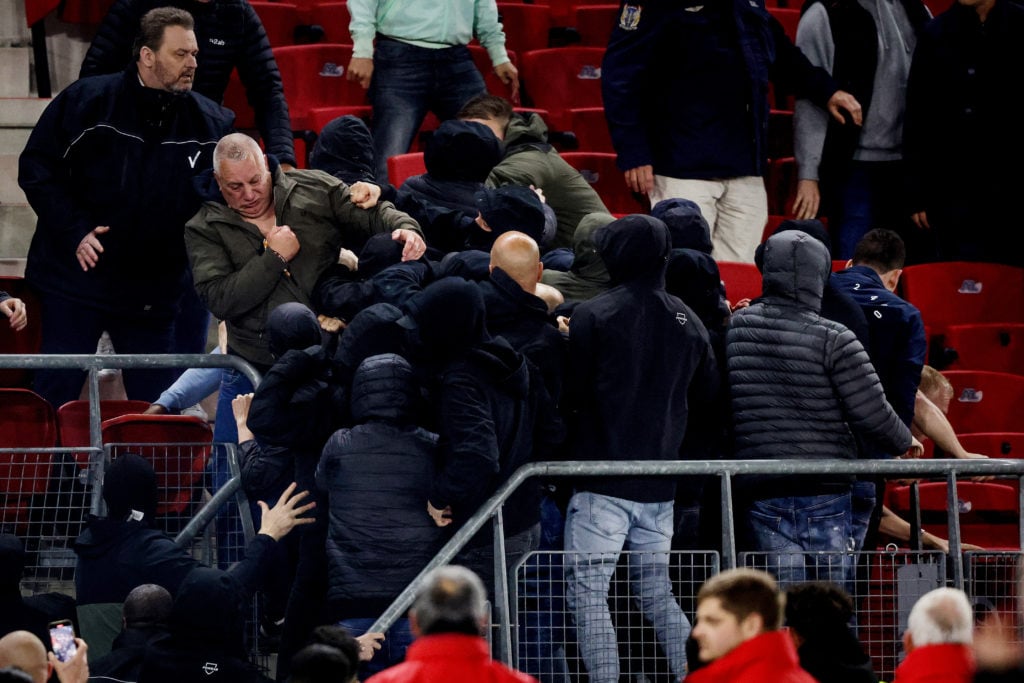 Fireworks, Millwall shirts and balaclava-clad berks but West Ham leave Alphabet FC with egg on their faces
The Spaniard's run, nutmeg and finish sparked wild celebrations among everyone connected with West Ham.
But it also lit the blue touch paper for some moronic AZ fans who attacked the loved ones of West Ham players and staff in the main stand.
Nothing can take away from the special night for West Ham fans. But in a way it was fitting the watching world got to see that section of the AZ support for what they are.
This was a tale of fireworks, Millwall shirts and balaclava-clad berks but West Ham schooled Alphabet FC to leave them with egg on their faces.
At the London Stadium last week a number of AZ supporters showed up proudly wearing Millwall shirts. And they did the same again for the second leg in Holland.
Obviously it was an attempt to goad Hammers fans. But they weren't fit to wear that shirt. Because the hooligan element of Millwall's fanbase would never have launched an attack on the families of their arch-rivals.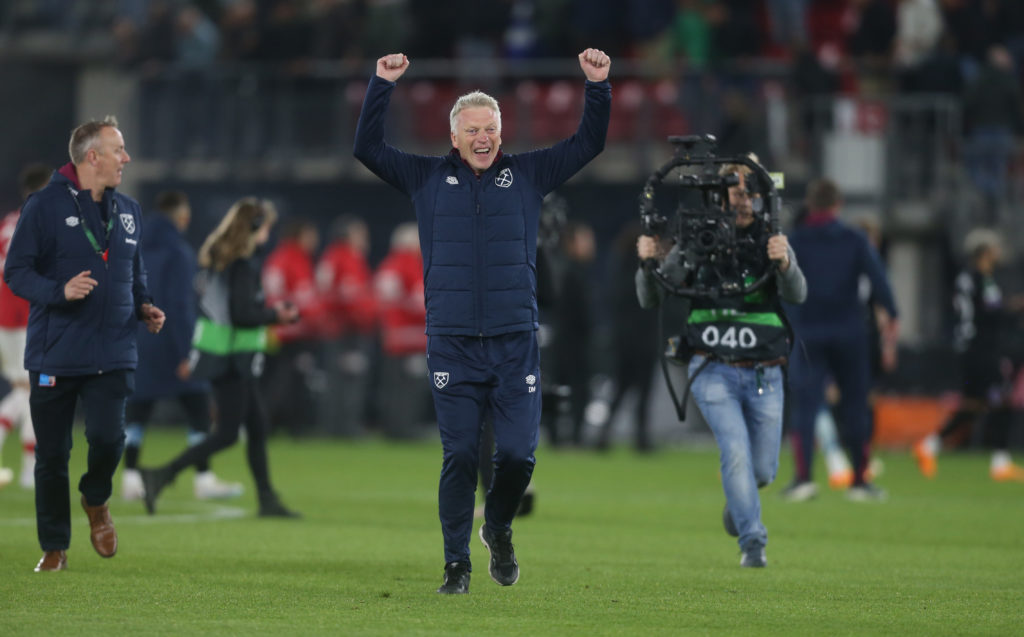 Fireworks backfired on group of not so bright sparks
As West Ham's players hunkered down for the night ahead of the huge semi-final second leg in Holland, AZ fans were at it again.
A group of hooded, masked supporters were filmed dangerously setting off fireworks in a public place outside the West Ham hotel in the middle of the night.
It was a clear attempt to disrupt the sleep of West Ham's players ahead of the big game.
But these particular hooligans must have forgotten the match was a 9 o'clock kick-off local time the next evening. So even if their rockets did wake the West Ham team up, they would've just had extra time in bed in the morning!
The video showed just how dangerous their actions were because one of the AZ fans involved was actually hit by a firework as it went off.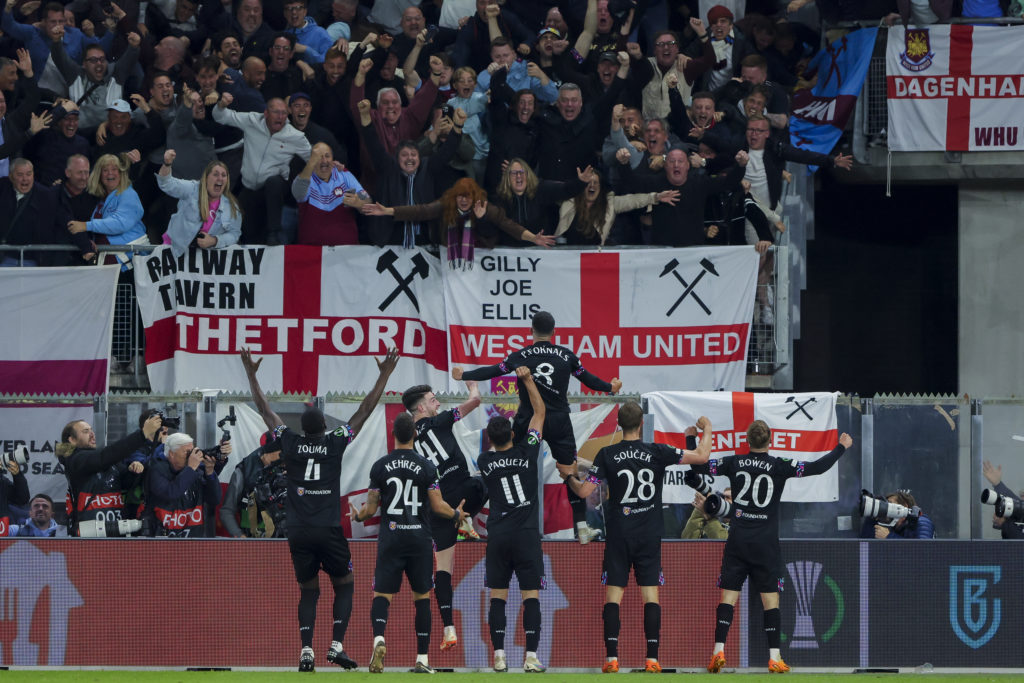 AZ pose no major threat just like posse of imbeciles put in their place by hero Knollsy
When the game came around, West Ham had to forfeit possession again – as they do most games no matter the opposition – but AZ posed no major threat.
Just like their group of balaclava-clad imbeciles who tried to attack the family and friends of West Ham's players and staff when Fornals put the tie to bed.
They didn't bank on meeting West Ham man mountain 'Knollsy' – pictured at the top of this article – and others who kept the limp AZ attack at bay just as Moyes' team had on the pitch.
Joe Cole said it best in commentary when he described grown men dressing up in balaclavas to pull such a stunt as 'pathetic'.
Brave as lions, West Ham's players – including the likes of Lucas Paqueta and Michail Antonio and even club ambassador Marlon Harewood – quickly let the AZ posse know the Hammers are not to be trifled with too.
West Ham fans were there for the good time.That was best highlighted by former striker Andy Carroll being on the beers with the travelling support.
Nothing sums up the Cockney wit better than the nickname West Ham fans gave their opponents – Alphabet FC.
AZ are hailed as the bright young side in Holland. But West Ham just left them looking juvenile.
Now roll on Prague.
ORE WEST HAM NEWS
Related Topics
Have something to tell us about this article?
Let us know