West Ham United star Tomas Soucek has poured his heart out about his struggles for the first time after fan criticism.
As the old saying goes 'there is no smoke without fire'. And over the summer numerous reports fanned the flames of speculation over Soucek's West Ham future.
The likes of Claret and Hugh – who have strong contacts inside West Ham – and Football Insider persistently claimed a disagreement between Moyes and Soucek over a new contract could see the Czech Republic captain leave the club.
Soucek was even linked with moves to Newcastle and even bitter rivals Tottenham (The Sun and Chronicle Live).
The midfielder remained but has – like many of his teammates – been desperately trying to rediscover his best form having been a shadow of the player named Hammer of the Year not so long ago for much of last season.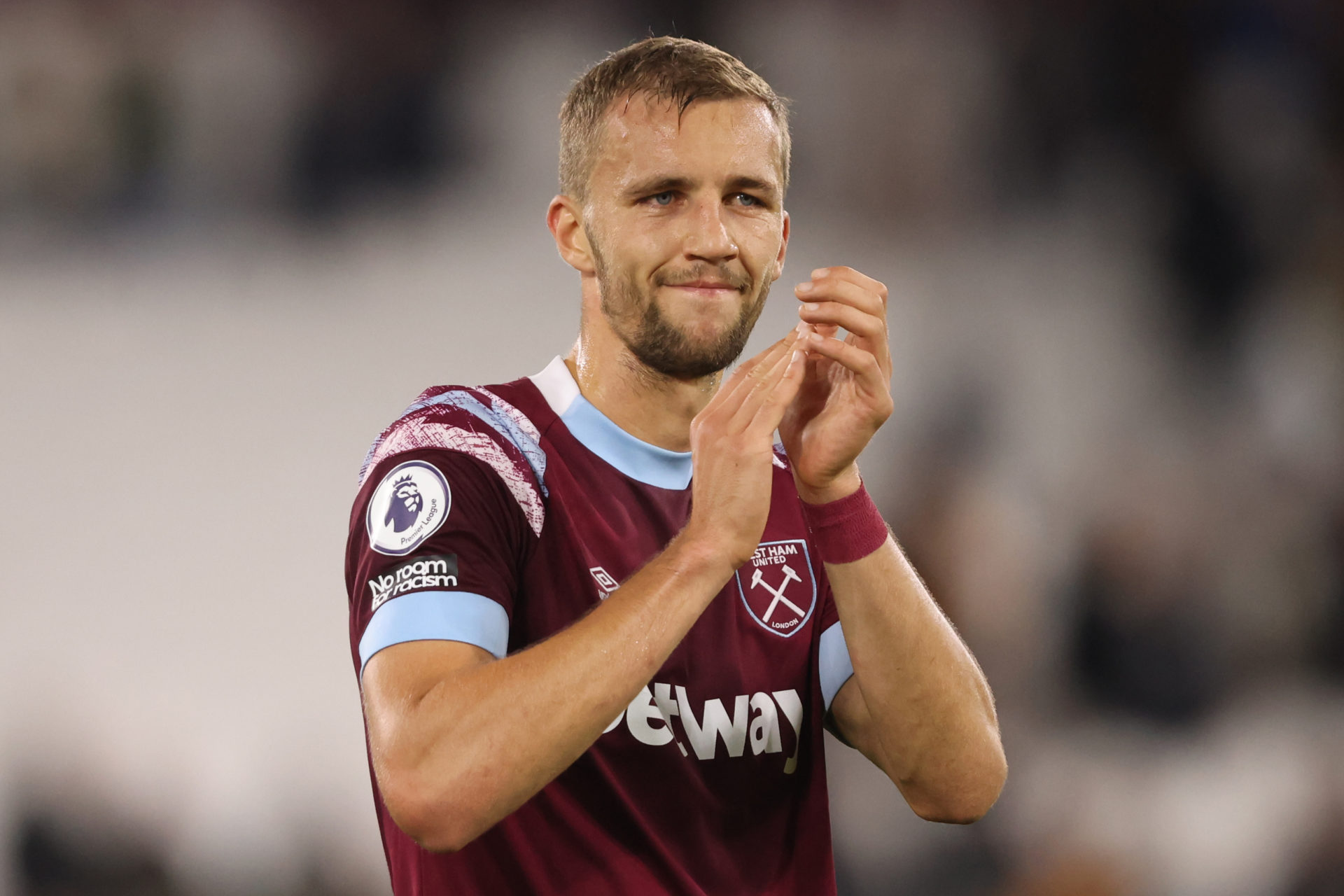 The lovable star's struggles even carried over to his national side during the last international break as he was substituted and heavily criticised in a 4-0 defeat to Portugal before missing a penalty in a 2-1 loss to Switzerland.
Amid all the criticism, though, there has – as we should come to expect in this modern era of football where social media gives everyone, rightly or wrongly, a voice – been plenty of Soucek slander too.
The crucial defensive side of the big Czech's game is often laughably overlooked by some supporters.
And while there is no denying he had been struggling in possession, it is not all Soucek's fault that his goal threat has been considerably diminished. Just ask David Moyes who admitted a change of role for Declan Rice was hugely responsible.
Many West Ham fans had been calling for Soucek to be dropped. And those calls had been growing louder from some recently in light of the emergence and form of Flynn Downes.
But Soucek – as you would expect from one of the hardest working and most selfless players ever to wear the claret and blue – has come out fighting of late.
Moyes has stuck steadfastly behind Soucek. His performances have steadily improved and the criticism has not been as vociferous online. And perhaps most encouragingly, he is getting in goalscoring positions again.
Now West Ham star Soucek has poured his heart out about his struggles for the first time after fan criticism.
In an emotional interview with the club's official website just days after the birth of his second daughter, Soucek concedes his form is not what it once was.
West Ham star Tomas Soucek pours his heart out about his struggles for the first time after fan criticism
But the 27-year-old has vowed to get back to his best and insists he has loved every minute of playing for West Ham.
"At the start, I didn't play my best, especially in the first five games," Soucek told whufc.com.
"I tried to do even more because I was frustrated that I didn't do best on the pitch, so I did even more at the training ground.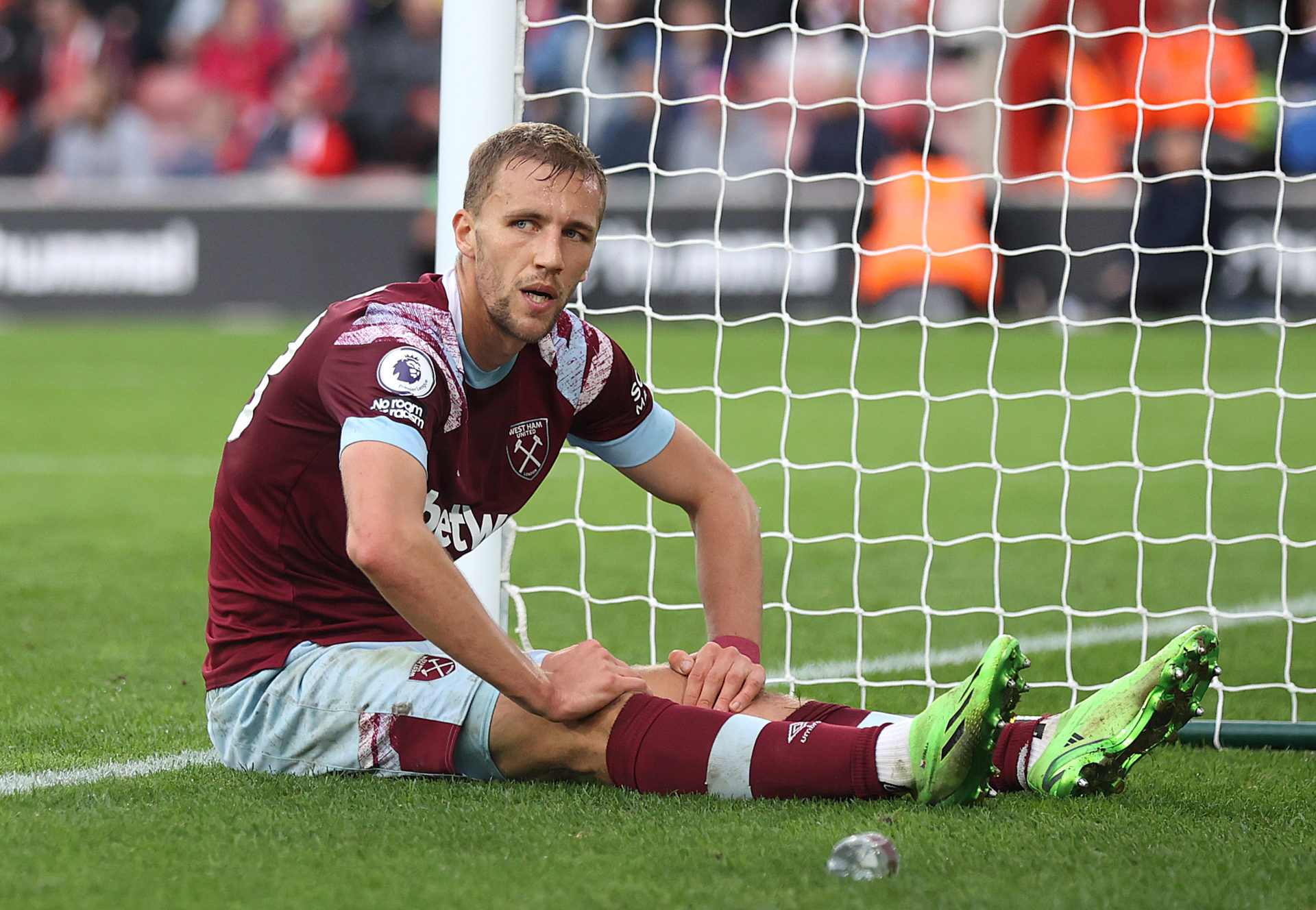 "It's very difficult to be at the top level in the whole of your career. I always give my maximum on the pitch, but sometimes I do not play to my best. When this happens, I try different things to get back to my best.
"It's not always easy. A lot of people look at our lives and can only see that we play football for fun, but the other side is very different.
"I like to play every game and I'm very disappointed even at the training ground when the gaffer tells me I need to rest and I say 'No, I want to play with the guys!'.
"For me, honestly, it's much harder mentally than physically because to concentrate on every game and give my maximum and get my adrenaline levels right is very hard, especially when you have difficult opponents against you.
"I am not a person who just goes to play for myself on the pitch, I care about others and care if someone feels bad so I want to help my teammates to get back on track.
"You can feel the pressure every day and while you are the same footballer, your performance as a player can be totally different because of that pressure and what it does to you mentally. I believe that now, many players are very good physically, but mentally they are destroyed by this pressure, and mentality is very important."
As if we didn't love this guy enough as it is!
Soucek goes into even more detail about his life and his ups and downs in the interview.
And as always he comes across as one of the most down to earth, nicest men you could wish to have playing for your club.
I truly believe if the West Ham fans stick by him, he will get back to the heights he was once hitting, particularly as he is about to get a long overdue and hard earned rest during the Qatar World Cup.
Knowing Soucek, though, he'll be training twice as hard to be ready for when West Ham are back in action on Boxing Day.
MORE WEST HAM NEWS
Related Topics
Have something to tell us about this article?
Let us know