West Ham United fans are closer to finding out who the club's new kit makers will be.
Last week West Ham's owners continued their charm offensive by offering fans a say in the club's future kit designs.
The Hammers go into the last of a five year deal with kit maker Umbro next season.
The firm replaced fans' favourites Adidas as kit manufacturers.
Speculation rife over new kit maker
Speculation from SAB meetings with vice-chairman Karren Brady suggested Umbro will be replaced by Nike for the 2020/21 season.
A deal was believed to have been struck with Nike (West Ham World) as the sportswear giant aims to tighten its grip on London clubs.
But Hammers insider ExWHUemployee, a reliable source of information on goings on at the club, this week suggested otherwise.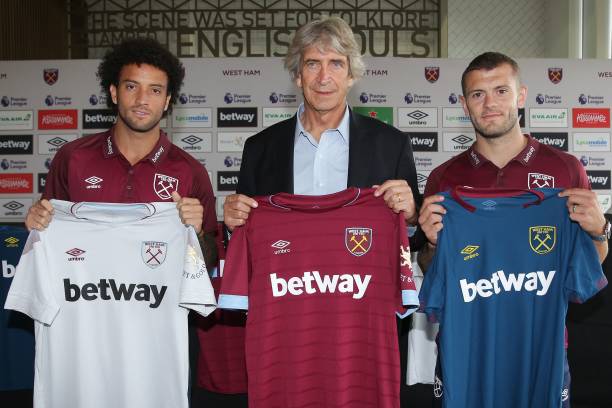 Not Nike, could be Umbro but Kappa and Under Armour mentioned
The Twitter and radio personality has hinted that in fact neither Nike or former kit maker's Adidas will be the next kit supplier.
That led to speculation on Twitter over the identity of the new kit makers.
ExWHUemployee told his 56,000 followers that an announcement is 'expected soon'.
Officially Umbro will make the kits for at least next season an announcement on who is supplying the kits beyond next season is expected soon https://t.co/D7iyHLFu4q

— ExWHUemployee (@ExWHUemployee) April 25, 2019
That paved the way for speculation on Twitter with some fans claiming it would be either Kappa or Under Armour.
Indeed there was even a suggestion that a new deal will be struck with Umbro.
Here are a selection of tweets from Hammers fans discussing the possible new kit makers.

'Why can't fans just design the kits?'
Is this true? pic.twitter.com/cQo466Uede

— Luke Chapman ⚒⚒⚒ (@Moonchindotcom) April 25, 2019
That sounds like Umbro could be extended. The people that deal with the contracts are buffoons. Prob Karen Brady. Ex does the deal just simply come down to who offers the most? I'm sure we all want to see Nike or Adidas but do club select highest bidder ?

— Dan Swaby (@Swabybaby01) April 25, 2019
I heard it's between PONY or BUKTA

— The Falconwood Flex (@scary10) April 25, 2019
Don't tell me we've extended our deal with Umbro, from what I've been hearing

— Adam Loveday (@AdamLoveday92) April 25, 2019
Wouldn't mind puma, under armour, new balance

— ⚒Mr Hyde⚒ (@Mr_Hyde91) April 25, 2019
So if he knows who it is and on the show he believes it isn't Nike then it obviously isn't! I wished it was tho that kit looks lovely 👌🏼

— Tommy Oriel (@TommyOriel_) April 25, 2019
Lol it's Umbro again

— Mike K (@_NailOnTheHead) April 25, 2019
@ExWHUemployee Is it between Kappa and Under Armour for our new kit supplier?

— John (@jrd_1999) April 25, 2019
Really wished the club could let the public create kits and have a public vote on them, every year we see some proper nice football kits created by our fans specially by @whufcphotos @AngelicUpstarta

— ˗ˏˋ JΔMES ˊˎ˗ (@JameswhufcJones) April 25, 2019
🙏 Please NOT Macron, Puma, or Under Armor. If only @fredperry made football kits.

— ATL HAMMER (@Atlanta_Hammer) April 25, 2019
Break dancing Kappa style tracksuits would be great. We could bring lino's to cover the new carpet for back spins.

— OG (@Griz1a) April 25, 2019
No doubt it'll be some 3rd rate company like Macron, Pony or Bukta !!

— DA (@DDDAAA74) April 25, 2019
Have something to tell us about this article?