Bukayo Saka, Marcus Rashford and Jadon Sancho all missed penalties for England against Italy in the Euro 2020 final won Sunday.
There is no disgrace in that, however. The fact that they stepped up shows a certain kind of courage that defied their tender years.
The vast majority of the English public are behind the Arsenal and Manchester United stars.
Morons will always be morons, however, and some of the them have tainted the manner in which the rest of us have got behind the young trio.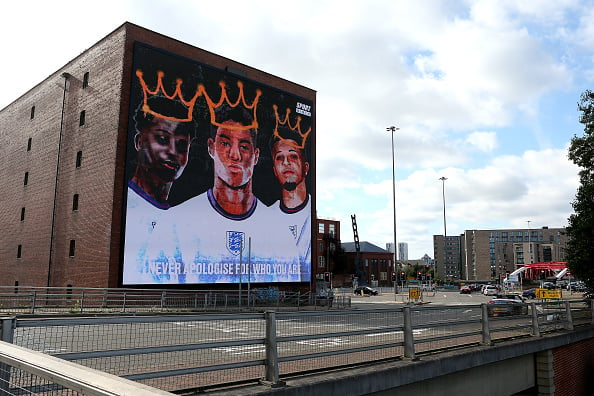 Bukayo Saka, Marcus Rashford and Jadon Sancho flag spotted at West Ham
A heartwarming banter was spotted at the London Stadium yesterday from a West Ham fan showing their support for Saka, Rashford and Sancho:
There are some people who will say that there is no place in English football for this love-in between rival clubs.
I say that this is an important issue that needs as much positivity surrounding it as possible, however.
It is fine to criticise the fact that the three players missed their penalties. But there is absolutely no place in football or society for some of the racist abuse that they subsequently received in the aftermath.
The three young men all seem like strong characters and will hopefully bounce back for England over the course of the next few years.
This can't keep happening, however. A simple solution for the online abuse would be to implement a system whereby a verified ID is needed to create a social media account.
There are bigger problems than just the online abuse, however. This a real life issue. Racism is clearly prevalent in the UK. And there should be no stone left unturned as we try to eradicate the insidious disease that it has become.
We stand right with Saka, Rashford and Sancho.
Have something to tell us about this article?
Let us know